Alumnus named Superintendent of the Year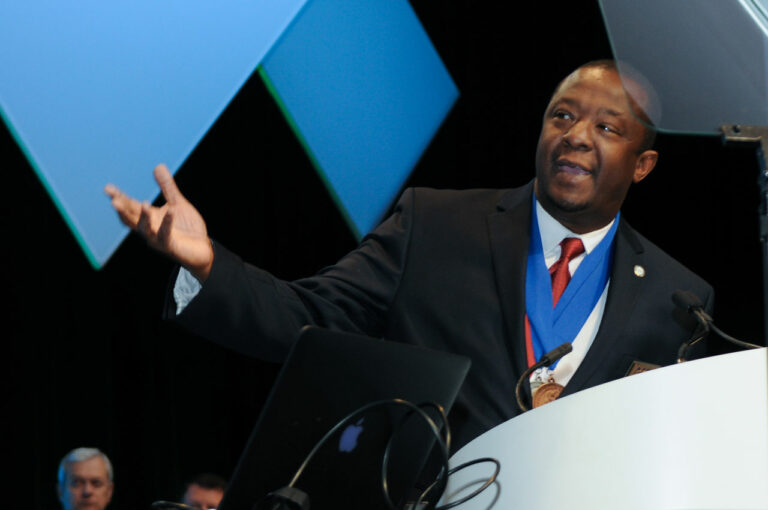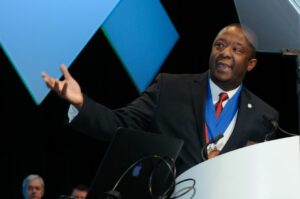 Thomas S. Woods-Tucker, '89 MA, '97 PhD, of Cincinnati was named the 2016 National Superintendent of the Year by the School Superintendents Association. As the lead administrator of the Princeton City School District, Tucker was honored for his dedicated service to the field of education. He thanked all educators, parents and the community for supporting the nation's public education system.
---
Alumni Association celebrates EHE stars
The enduring dedication of Leonard L. Haynes III, '75 PhD, as an educator and public servant sets him apart from the rest. He recently retired as senior director for institutional service in the Office of Postsecondary Education at the U.S. Department of Education. Haynes is devoted to advocating for historically black colleges and universities.
A professor in the College of Dentistry, Susan Mallery, '78 MA, was the first recipient of the Field Faculty Award for excellence in teaching. The four-time varsity letter winner in track and field is also a member of the Varsity
"O" Hall of Fame. She serves as an oral pathology consultant and researcher.
As the Alumni Association's director of student programs, Dottie Lee Wilker, '57, dedicated herself to the Alumnae Scholarship Housing (ASH) program. A volunteer since her retirement, she is an invaluable force to the 50 women who live and work in the low-cost ASH program.
---
Smith fills Archie's shoes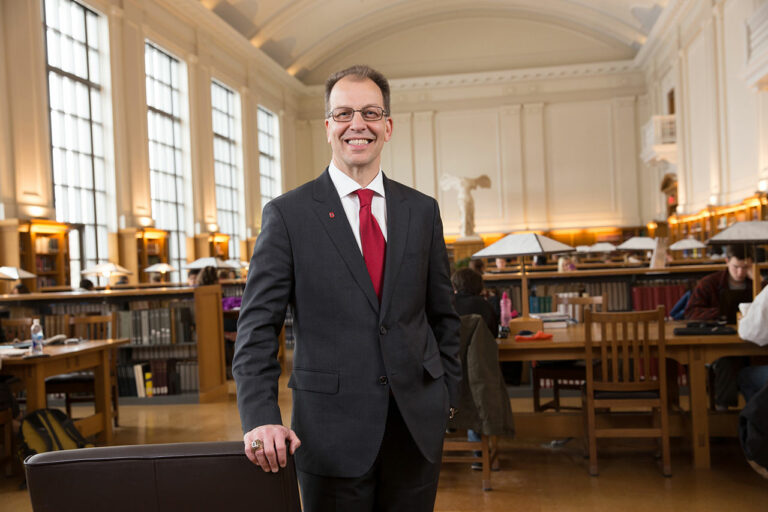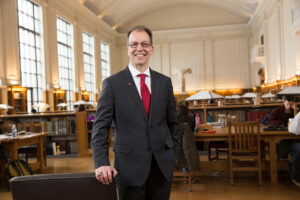 Jim Smith, '91, will follow in the footsteps of Archie Griffin as president and CEO of the Alumni Association. Before returning to Ohio State, Smith served as the executive vice president of the Atlanta Falcons. In addition, Smith served the team as chief marketing and revenue officer.
---
Dean Finke promotes financial literacy
Michael S. Finke,'96 MS, '98 PhD, of Ransom Canyon, TX, was named dean and chief academic officer of the American College of Financial Services. Previously a professor at Texas Tech University, he was selected to present his research on financial literacy and aging at the 2015 MIT Center for Finance and Policy conference.
---
EHE alumni run the show at ESPN's GameDay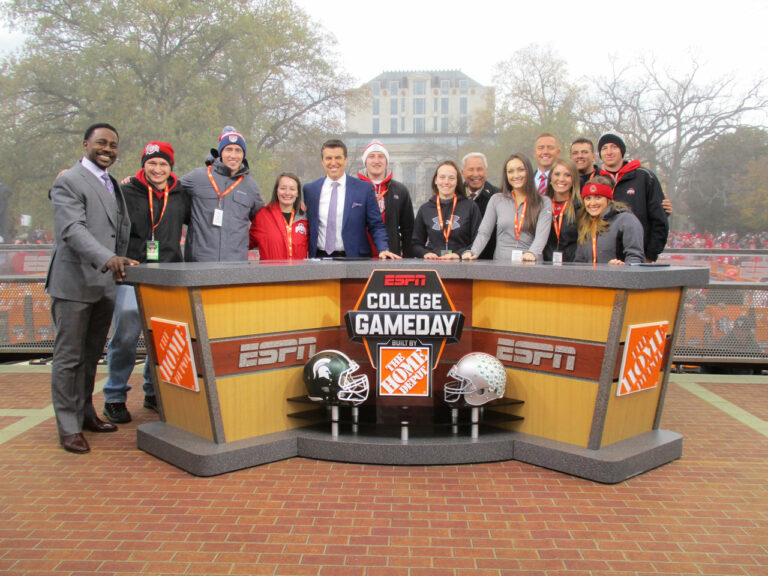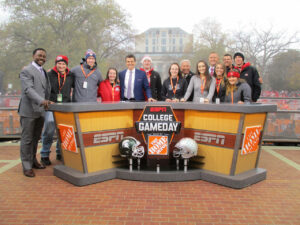 Grant E. Weaver, '11, and Erica P. Cornell, '14, both of Columbus, (both far right) are studying for master's degrees in sport management. This autumn, they and sport industry undergraduates worked as interns at ESPN GameDay at Ohio State. The duo assisted with sponsor activation and were in charge of creating and distributing GameDay signs for the crowd. They also supervised the virtual GameDay booth for fans to take photos.
---
1950s
Alan Abel, '50, of Southbury, CT, visited Amsterdam, Holland, with his associate Paul Hiatt. They held a Q&A session at the Goethe-Institut and Sandberg Instituut following screenings of their movie "Is There Sex After Death?"
1960s
Jan Dilenschneider, '65, of Darien, CT, debuted her exhibit "Dualities" at the Bellarmine Museum of Art at Fairfield University.
Marcella L. Kysilka, '62, of Orlando, FL, is professor emerita of the College of Education at the University of Central Florida. She was recently inducted into the Eleanor Roosevelt chapter of Kappa Delta Pi for her lifetime service to the field.
Phil Schaefer, '62, of Dacula, GA, was inducted into the Georgia Sports Hall of Fame in February. In 2010, he received the Masters Major Achievement Award from the Augusta National Golf Club.
1970s
Donald J. Mash, '74 PhD, of Middleton, WI, earned an honorary doctorate of humane letters from Indiana University of Pennsylvania, while serving as the spring commencement speaker. Mash is executive senior special assistant for leadership development at the University of Wisconsin.
Robert Prout, '72 PhD, of St. Cloud, MN, published Trooper – A Coming of Age Story of a Young State Trooper. As a former Ohio State Highway Patrol trooper, Prout founded the Criminal Justice Department at St. Cloud State University. He retired after serving for 43 years.
1980s
Karen S. Bruns, '81 MS, of Columbus, received the Distinguished Service Ruby Award from Epsilon Sigma Phi, the organization's highest award. Bruns retired as assistant director of OSU Extension Family and Consumer Sciences programs in 2015.
Ted Lambrinides, '81, '82 MA, of Cincinnati, OH, is president of Sports Performance Consulting. He is also a member of the Aegis Sciences Corporation's Aegis Shield Expert Panel, protecting athletes from inadvertently consuming banned substances.
1990s
David L. Montrose, '90, of Merrillville, IN, was recently promoted to senior vice president of operations for select service with White Lodging.
2000s
Annett Jurkutat-Swartz, '05 MA, of Frankfurt, Germany, works for U.S. Embassies and Consulates' Regional Support Center as an education specialist. She facilitates professional development courses for professionals.
Elizabeth "Liz" Mechling, '08 MA, of Columbus volunteers for Franklin County Children's Services as a College Bound mentor to youth in foster care. Mechling is a counselor at Metro Early College High School, which is supported by EHE.
Jenny Hinz Roscoe, '08, '10 MA, of Chicago took part in a global field course in Namibia. While in the country, she studied cheetah physiology and ecosystem management. Roscoe is a computer science teacher at Lane Technical High School.
Kelly R. Walsh, '00, '06 PhD, of Newburgh, IN, is head of Nutrition Science for Mead Johnson Nutrition, North America Research and Development. He also belongs to the Global Nutrition Working Group, which guides the company's philanthropic program addressing orphan malnutrition.
Bharathi Zvara, '09 MS, of Chapel Hill, NC, was invited to serve on the Centers for Disease Control and Prevention's National Health Interview Survey Expert Panel. She is a research assistant professor of maternal and child health at the University of North Carolina.
2010s
Kelsey Brax, '14,'15 MEd, of Erie, CO, was named a 2015 Teaching Fellow by the Knowles Science Teaching Foundation, which empowers young people to become agents of educational improvement. Brax is a mathematics teacher at Erie High School.
Kathleen Farrand, '14 MA, '15 PhD, of Tempe, AZ, received the 2015 Outstanding Graduate Student Award from the Council for Exceptional Children. She is an assistant professor at the Mary Lou Fulton Teachers College at Arizona State University.
Risa Haridza, '14 MA, of Pontianak, West Borneo, Indonesia, was a finalist in Indonesia's National Teacher Award competition. The junior high science teacher also won the 2015 Teacher Award from her province.
Kristy McCray, '15 PhD, of Columbus is assistant professor of health and sport sciences at Otterbein University. As a former executive director of a rape crisis center, she specializes in student-athlete development and sexual assault prevention in college athletics.