When COVID-19 closed the nation's campuses in March, student resources suddenly became less accessible. And yet, a number of Ohio State students experiencing food insecurity continued to eat — thanks to a food pantry co-run by the Advocates for Communities and Education Scholars and the college's Office of Undergraduate Student Services.
Throughout spring and summer, food and personal care items collected by the student group were distributed outside the PAES building, from a bin containing staples such as peanut butter, canned fruit, macaroni and cheese, granola bars, shampoo and bar soap.
Even before the pandemic, a report by the Government Accountability Office indicated that as many as 30% of college students nationwide might be food insecure, based on surveys from 31 colleges and universities. Some, the report determined, are at risk for dropping out. Students who are low-income and raising children are particularly vulnerable.
With the pandemic and resulting economic crisis, that number is sure to increase this fall, said Sophie Turner, a second-year special education student and the service chair for ACES, a scholars' group that includes many EHE students.
"A lot of people, especially upperclassmen, were relying on part-time jobs. Then those got furloughed," Turner said. Retail establishments, libraries, pools and gyms closed. Most students hadn't worked enough hours to qualify for unemployment. Neither did they receive stimulus checks if their parents claimed them as dependents.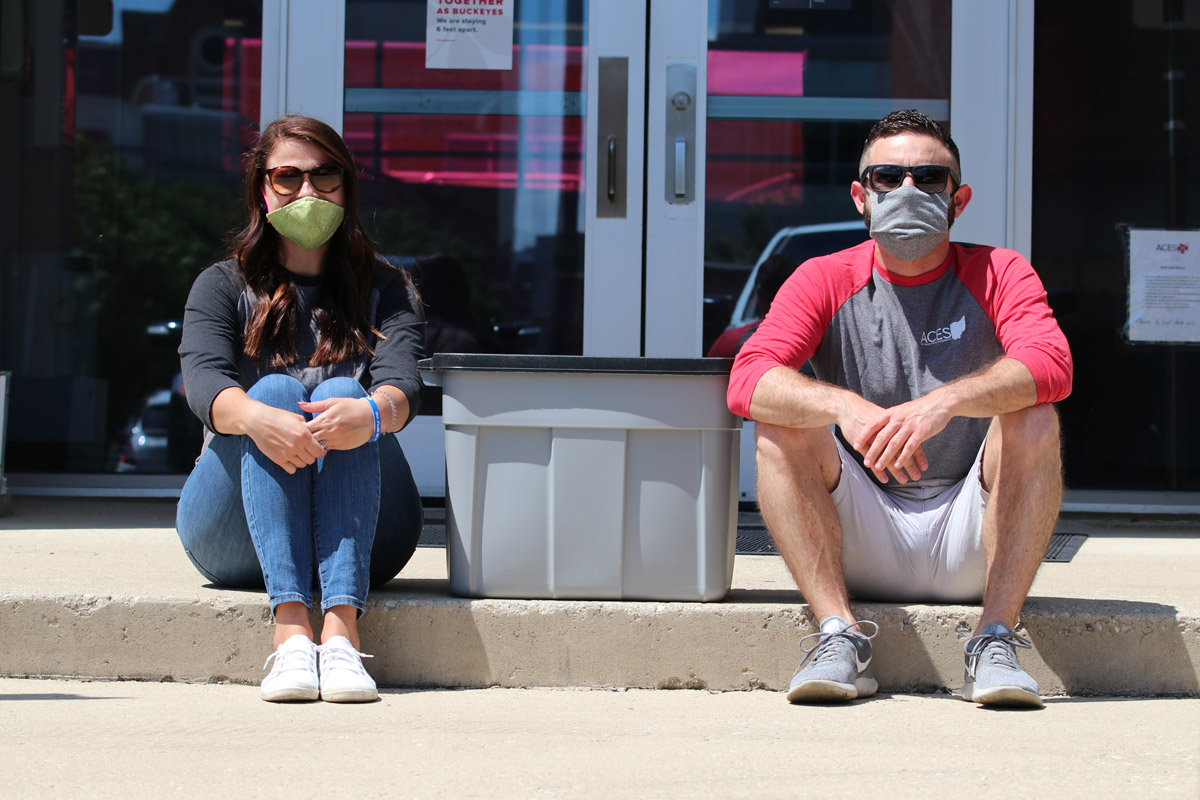 "Part-time work is often what paid their grocery bill," Turner said. "The food and the personal care items are the things that parents and student loans aren't covering always. So that's where students are expected to make up (the cost), and now they're definitely feeling it."
But the ACES students had collected more than enough nonperishable items and toiletries to distribute through the spring and summer, said Kim Bruening, student engagement specialist and coordinator for the group. A storage room in the office was filled after food drives last year.
Bruening and the ACES students plan to collect more donations fall semester to meet the demand. The bin has been moved to the PAES lobby for students to safely access.
"Now we are trying to assess the need," Bruening said.
Students who continue to struggle will be directed to other resources, including Ohio State's Student Emergency Fund and other benefits.
"We'll work on getting donations but being more targeted about what is needed, redirecting the resources." Turner said. "People come in a lot more for the personal care items than you might expect. As service chair, I want to pay close attention to what is being used."
Want to donate?
ACES and the college are collecting hand sanitizer, soap, shampoo, canned fruits and vegetables, ramen noodles, granola bars, peanut butter, fruit snacks and microwavable macaroni and cheese. Contact Kim Bruening for details on how to deliver.