Their romance led to an enduring legacy for education
Many Buckeyes associate the name Arps with the building on campus. Most don't know the Arps family's long-standing history with the university, or how a love story catalyzed a scholarship that has supported hundreds of education students.
The building, circa 1926, was named after the third dean of the College of Education, George F. Arps. His wife Alice, a member of the Board of Education of the Columbus City Schools, and her friend, local teacher Lydia Collicott, were passionate about education. Their children, Ruth Collicott and Leslie Arps, were classmates with no romance between them.
Both graduated from North High School in 1926 and attended Ohio State for a time. Ruth served as class president. Les transferred his junior year to Stanford University and the two lost touch.
She graduated in 1928; he studied law at Harvard. World War II took him to Europe, where he planned bombing raids on Germany with his commanding officer and mentor, John Marshall Harlan II, who would become a Supreme Court justice.
Afterward, when Les didn't make partner at the New York law firm where Harlan worked, he was flummoxed. He returned to Columbus, tried to practice law there. Still he did not cross paths with Ruth.
So, with two colleagues who'd also been turned down, he returned to New York and founded firm Skadden, Arps, Slate, Meagher & Flom, which grew into one of the largest firms in the country. When he returned to Columbus to handle a case, he ran into Ruth, who owned several bakeries there.
"I remember when he was starting to date her, and was going out to Columbus to see her," said Barry Garfinkel, who has been with the firm for more than 60 years. "And I remember when he broke off his relationships with other women" he had been seeing.
Les Arps was head over heels. He and Ruth married. Both were in their 50s.
As a couple, they shared many philanthropic passions similar to those of their parents. They gave back to their community for the rest of their lives.
Leslie Arps passed away in 1987 when he was 80. Wanting to honor his memory and the family's dedication to educational advancement, Ruth set up the Collicott-Arps Scholarship Fund in the college in 1996.
The scholarship is expressly for students who graduate from Columbus City Schools — as Les and Ruth did — and want to teach.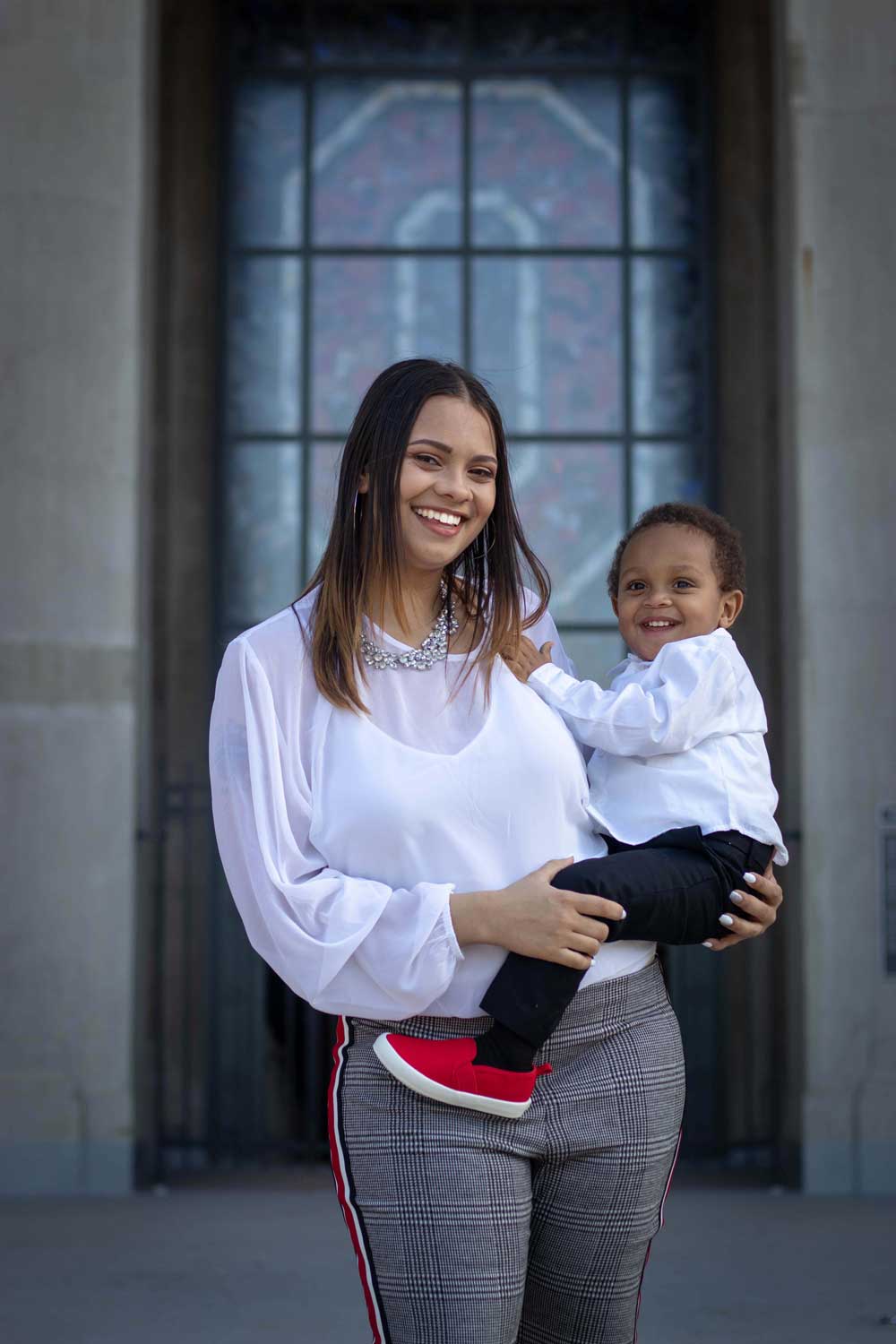 Collicott-Arps Scholar: Jillian Deas
A believer in educational equality, Jillian Deas intends to make a positive and lasting impact in the Columbus community.
She lost her father when she was in fifth grade and her mother when she was a high school senior. Despite the adversity, she was labeled gifted as a child, worked hard for good grades throughout her years in Columbus City Schools and belonged to a STEM club in high school.
She was determined to go to college. Always interested in science, Deas started at Ohio State as an engineering major.
"When I got here, I was struggling like crazy," Deas said. She saw that most of her fellow classmates did not share the same struggles. She wondered if she lacked some essential educational building blocks.
"That's when I really became interested in education," Deas said. Drawn to work with younger children, Deas chose the Middle Childhood Education program, which prepares teachers for grades 4-9.
During her studies, she noticed that many policies and standards currently in place are not representative of or accommodating to the diverse populations at public schools.
"These policies systematically favor suburban schools," she said, "while setting up urban and rural schools for failure."
Having personally experienced the inequity in educational standards, Deas knows she will have to work outside the classroom to make lasting change.
She recently started graduate school and intends to earn a master's degree in the college's Educational Policy program.
"There are bigger foundational issues that I will not be able to control or contribute to once I hit the middle school classroom trenches," she said.
She wants to work in an urban school's administration, so she can be more influential in helping students.[/vc_column_text]
Make a Columbus City Schools graduate's teaching dreams come true
Support the Collicott-Arps Scholarship Fund
Deas' ambitions might have been interrupted without the help of the Collicott-Arps Scholarship. Due to a mishap with financial aid, Deas was about to be unenrolled from classes.
"The Collicott-Arps Scholarship helped me stay in my senior year," she said. "Without it, I would not have graduated in May."
As she grows in her career, Deas' goals might change, but her interests remain the same.
Without a doubt, she will continue to advocate for others and embody the mission of the Collicott-Arps families.