In one year, EHE has raised the bar for hiring faculty of color. Here's how, and why, the college did it.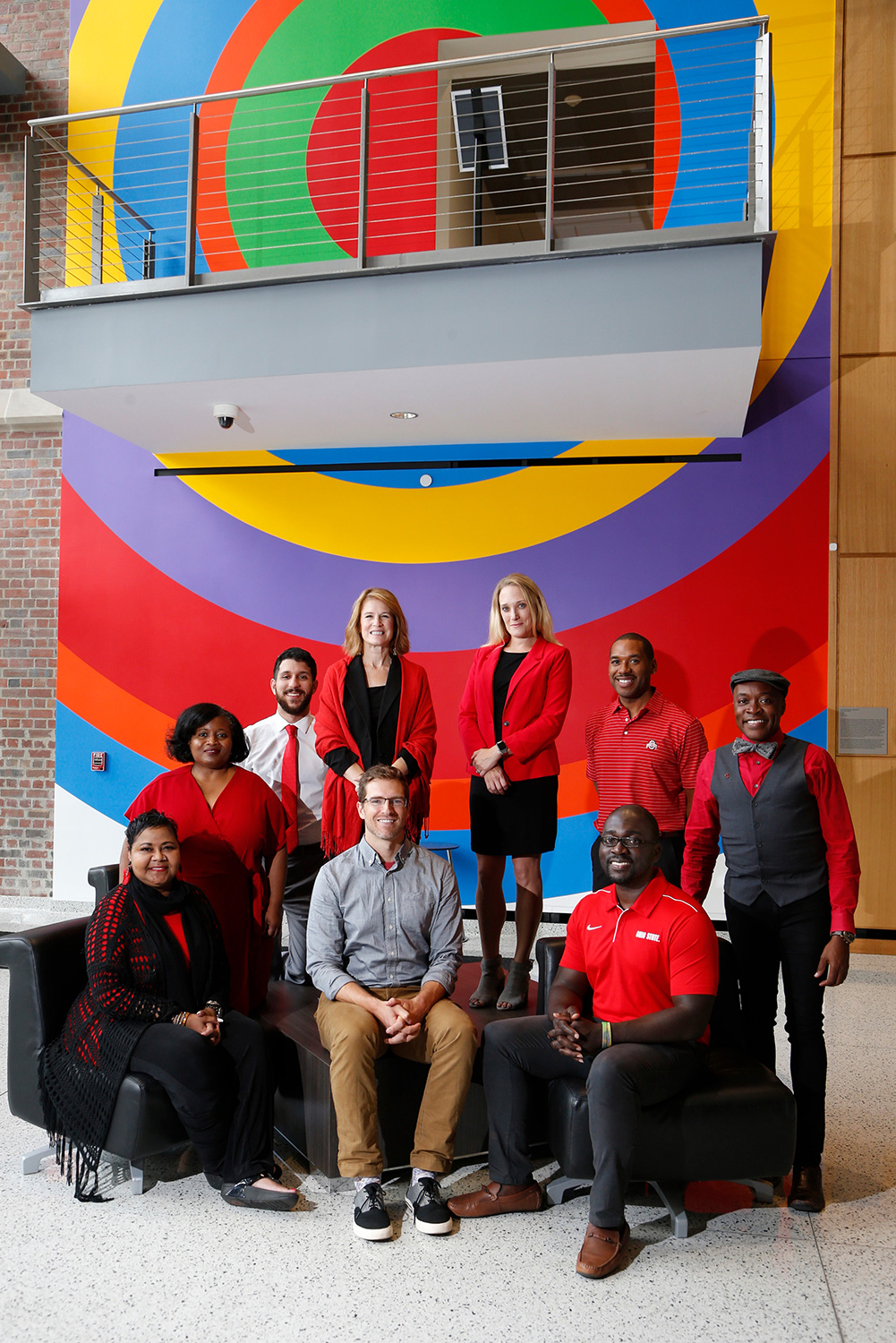 Mathematicians call it a bang-bang solution. To drive a car from A to B in the quickest way possible, you hit the gas — hard — then brake at just the right time.
To achieve faculty diversity that is critical for college excellence, Education and Human Ecology has ramped up its efforts to hire a more diverse community. In a move that experts call "bold" and "extraordinary," the college has recruited a distinguished team that will mobilize with current faculty and staff around issues of equity, underrepresentation and social and educational disparities.
Eleven new tenured or tenure-track faculty began positions at the college for the fall semester. Eight are faculty of color. And that's just the beginning. Additional hiring is slated for the upcoming academic year.
Equally important are eight new fellows who will conduct research and community initiatives in Dean Don Pope-Davis' Diversity Postdoctoral Fellows Program. To advance community and school engagement, the dean has expanded the superintendent-in-residence program to include representation from urban, suburban and rural communities in Ohio.
Diversifying the professorate has been a priority in higher education for years. But it's usually done in the margins, with minority hires made here and there, said Scott Page, a bestselling author who writes about improving organizational performance by tapping the power of diverse thought.
"Ohio State is saying, dang it, let's diversify now," said Page, a mathematician and business professor at University of Michigan. "Let's bring in a cohort of people, and let's make it more racially diverse, more gender diverse, more ideologically diverse. And let's just see what happens. It's a bold move, it's the right move, and it's a move that Ohio State is perfectly positioned to make."
The college has made faculty development a top priority, said Noelle Arnold, associate dean of Equity, Diversity and Global Engagement. Arnold contacted nationally recognized faculty whose expertise aligns with college goals.
"I facilitated at least seven conversations with people who wanted to know more about our college priorities," she said. "I was able to be very intentional about those efforts."
The result: A gilt-edged team with such talent as Donna Ford, a national expert on gifted education from Vanderbilt University; Lori Patton Davis, the college's new chair of the Department of Educational Studies, known for her scholarship on African Americans in higher education; and Stephen John Quaye, who studies facilitating dialogues about privilege, power and oppression.
Those new professors and others will collaborate with existing faculty, staff and students to tackle pressing education and societal problems — rural and urban education disparities, access to quality early childhood education, health and well-being.
Pope-Davis, who began as dean in July 2018, wasn't looking for representational diversity alone. He wants to drive meaningful change on local, state and global levels.
"We have to push back against the narrative that to be diverse is to compromise excellence," he said. "That's an old narrative. Our new faculty are among the best and brightest in their fields."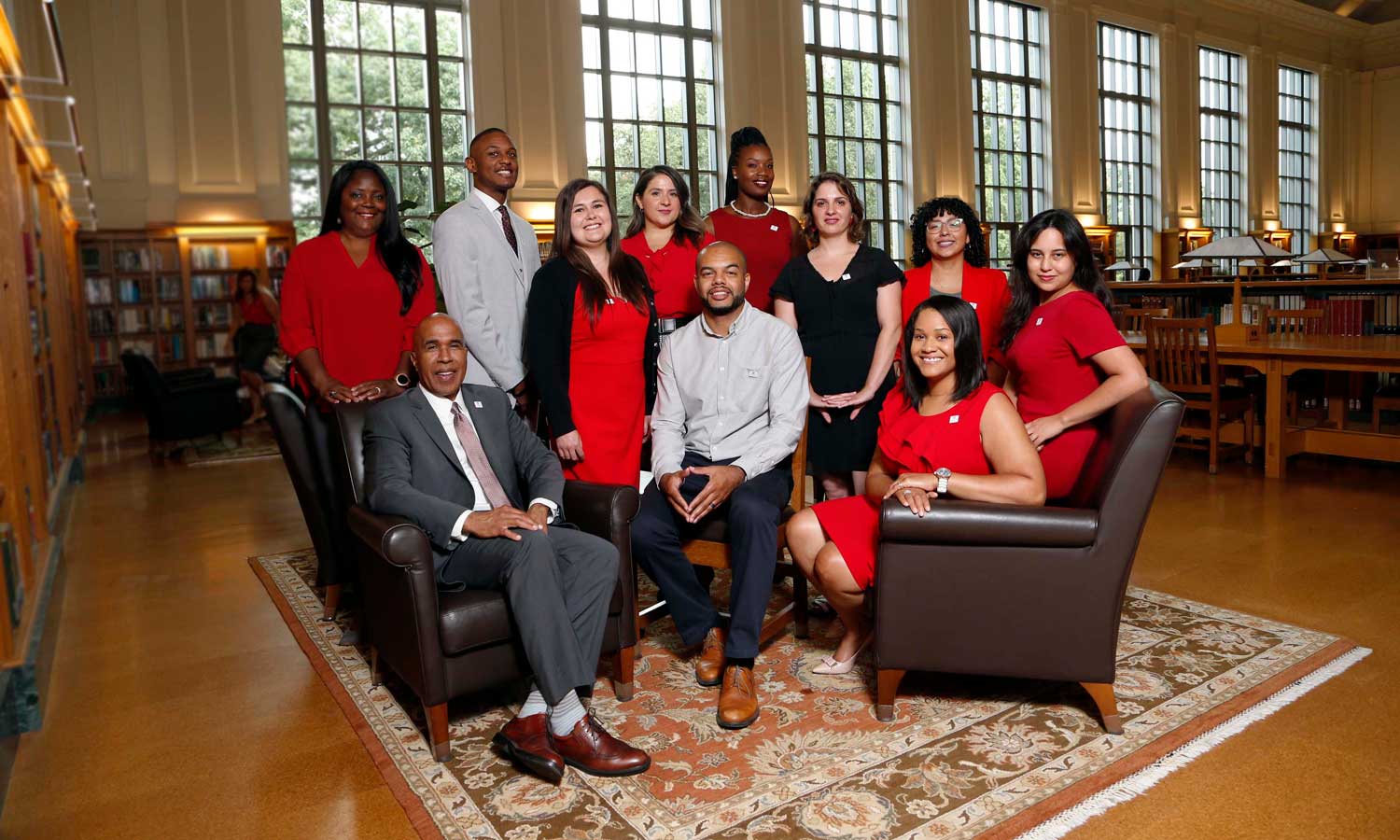 Why it's needed
Lack of diversity in student bodies and in faculty ranks has a causal nexus — one problem feeds into the other. Many fields, teaching chief among them, struggle to attract diverse students because they lack role models — teachers and college faculty — with whom students identify.
"The pathways that are established even to get into college are loaded up inside the K-12 system," said Charles R. Martinez Jr., dean of the College of Education at University of Texas at Austin. "We have huge disparities in who goes on to get a college degree, based on their being poor, based on their being first generation or brown."
When a leader like Don Pope-Davis takes that on, Martinez said, it's a recognition of structural problems deeply embedded in the system. "We're trying to actually recast how we're preparing our students."
It's not about making symbolic gestures, he said, but about achieving excellence.
Higher education is built around historic disciplines, said Executive Vice President and Provost Bruce A. McPheron, chief academic officer at The Ohio State University.
"But the really big, interesting and critical problems in society don't align like our historical disciplines," he said.
"They are big systems problems that require holistic thinking. You don't solve them if you don't bring different perspectives together."
"The notion of a diverse faculty, first and foremost, attacks that issue of bringing all of these different perspectives," McPheron said.
Within any organization, Page said, success ultimately comes down to cognitive differences: In what people value, how they define problems and the way they think.
"Changing the identity composition is going to change the cognitive composition," he said. "And that will definitely lead to new questions, new research, new ideas. It has the potential to lead to much better predictions, solutions and creative ideas. What we know, and almost no one disputes, is that a group of diverse people is going to have more ideas."
Those innovative notions come from being confronted with differences — in faculty meetings, in research labs, in classrooms and in the community. Having just one individual with disabilities or person of color in the room changes the dynamic for an entire group, Page said. Having many takes things in completely new directions.
"I always want the best for my team," said Rosie Phillips Davis, president of the American Psychological Association and professor of counseling psychology at the University of Memphis. "And so consequently the best includes people of color, different ages and the whole gamut of different religions and different sexualities, all of that."
But one of the foremost issues that society grapples with today, still, is race, she said. "And that's part of why we can't ever let the discussion go."
How to push the needle
So, if diversity is better, why has it taken society so long to achieve it?
"It's difficult, nuanced, complicated work," said Martinez, who spent years working to diversify faculty and the student body at the University of Oregon. "I had to shepherd and lead very complex institutional initiatives around creating diversity, both programmatically and in terms of faculty hiring."
The effort can be met with resistance. "You need strong leadership," said Cheryl Holcomb-McCoy, dean of the School of Education at American University, "someone that can just push through it and know how to answer those tough questions. More importantly, you need a leader who can manage the resistance and pushback."
Too often, universities espouse values surrounding inclusion but then back off of them, Phillips Davis said.
"Somebody in our society has to aspire to and take action on our loftier ideals," she said. "And so, for someone to really take the chance to say, 'I'm going to be committed to including even the least of these,' makes a huge difference."
Don Pope-Davis is suited for the charge, said Holcomb-McCoy, who worked with him at the University of Maryland. "He has, I'm sure, studied every little piece of this problem," she said.
Hiring in clusters, for example, is proven to help retain faculty and maintain excitement around research initiatives. "They're coming into an institution that says this work is highly important," she said. "And it's hard to say no to that."
A robust and accomplished cohort of postdoctoral researchers also creates a pipeline through which Ohio State and other colleges can hire. "It's reputational," she said. "Your institution becomes the buzz."
In one year, the college has increased its faculty of color from 22% to 26.7%, as of November 2019. Postdoctoral researchers of color have increased by 9%.
"I think one of the things that Don has accomplished very quickly is to really jump into this with great outcome," McPheron said. "I think he's demonstrating to all of us that these goals are something we can achieve."
But not just any university can do it. Some of the most storied institutions of higher education are hampered in their efforts to diversify.
"Everybody focuses on Harvard, Princeton, Yale, Stanford," Page said. "The real action — I say this flat out — is at Ohio State, because you're bigger."
The university has more faculty, more students and a land-grant mission that affords the capacity to onboard many more diverse students.
"You're taking one of the world's great universities with a lot of resources, and jumping ahead in line, making the faculty look like, hopefully, what all faculty are going to look like in 25 years," he said.