Campbell Hall stands squarely at the heart of Ohio State, and for more than 100 years, this icon has been a magnet for engaging the campus community – in its auditorium, in its shared classrooms or as a convenient stop to study, conduct research and collaborate.
Located just beyond Mirror Lake on the west side of the Oval, the stately structure has reigned over Neil Avenue since 1916.
With a rejuvenation underway, those connected to Campbell Hall's history may worry that its essence will be lost. Not so. Every dimension of the redesign is intended to blend past, present and future.
The project's architects, Schooley Caldwell, are laser focused on integrating modern elements with the building's historic characteristics, most clearly visible on the exterior where impressive Doric-style columns adorn the arched, front entry along Neil Avenue.
Ultimately, this holistic approach will add an important and thoughtful dimension to Ohio State's social, historical and architectural heritage. With this commitment in mind, modernizing Campbell Hall will mean our faculty and students will undertake teaching, learning and research in world-class, cutting-edge spaces.
"We want to provide flexible learning and research spaces that function well for diverse needs, while making way for us to join with more partners to solve complex human problems," said Dean Don Pope-Davis. "To do this, we need modernized wet labs, dry labs, spaces to interview people, a teaching kitchen and more."
"The project will be transformative. A reflection of the values the college embodies."
Students and faculty will collaborate more effectively in comfortable conditions created by up-to-date heating and cooling systems and solid infrastructure. They will benefit from state-of-the-art classrooms and labs equipped for today's modern modes of teaching and research.
Even better, more of the college's faculty and staff will be able to work together on site, rather than being dispersed to various locations across campus. The increase in collaboration and interdisciplinary endeavors feels limitless.
We're excited to share some of the key areas slated for enrichment.
The East Entryway Plaza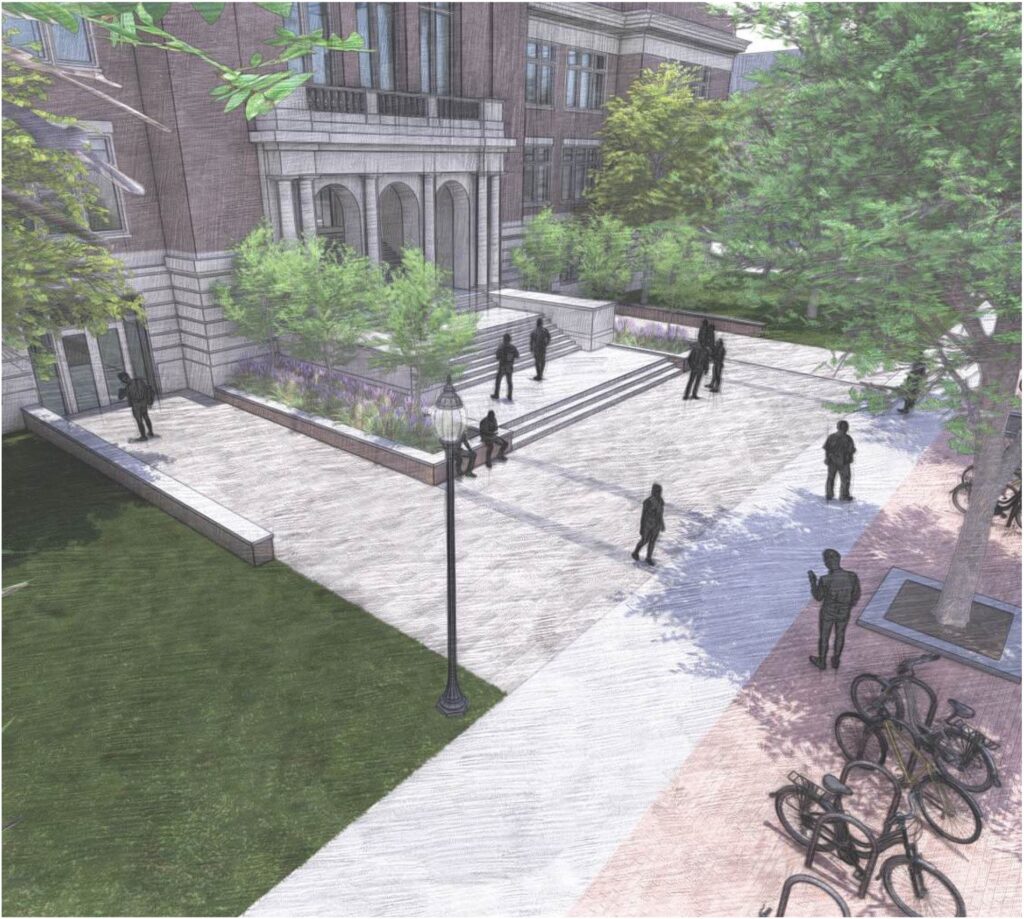 Facing Neil Avenue, a modernized plaza that blends old and new will become an appealing location for students, faculty, staff, alumni and visitors to meet. Ample seating options may be added amid lawns and lush plantings.
Two accessible entrances, one on either side of the main stairway, will emphasize the inclusive nature of the building. The architecture will clearly communicate that all are warmly welcomed into the college's fold.
By ensuring that everyone can enter the building with ease, our intent is to embody two critical aspects of the college's core values: justice and diversity.
The windows on this façade, as well as those throughout Campbell Hall, will be replaced to improve the building's curb appeal and energy efficiency. Upgrading the currently deteriorating windows will ensure the structural integrity of the building for years to come.
West Side Entry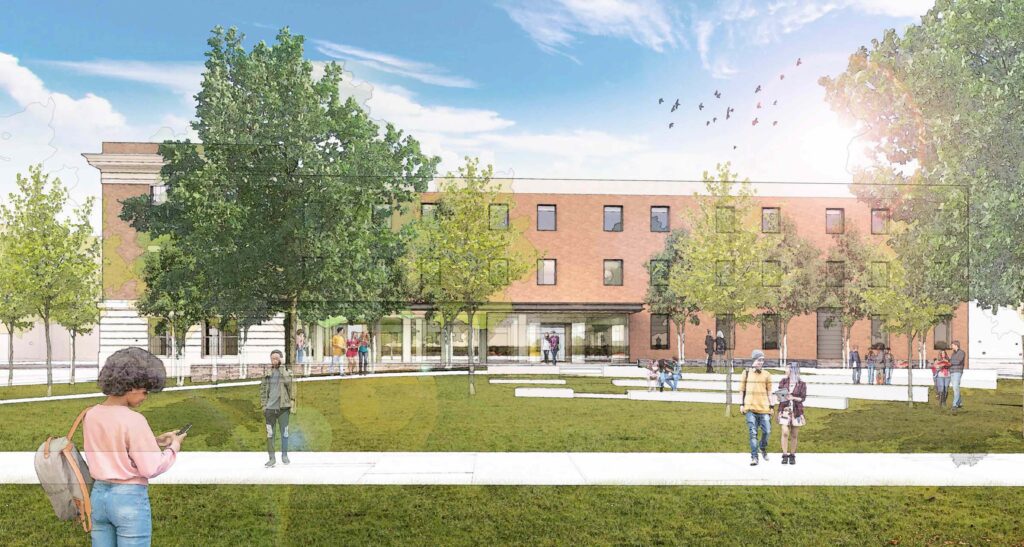 The west side of Campbell Hall will be transformed by a new, ADA-accessible entry, adding to the welcoming aspect of the building. A sheltering canopy and spacious glass doors will offer transparency and visual conversation between the outside and inside environment.
By revealing the lighted lobby beyond, the entry will encourage all to enter and travel into the heart of the building. This shift will reflect the college's emphasis on outreach and engagement.
West Side Outdoor Learning Space
A portion of the west side lawn will be designed for study, informal teaching and learning.
Created with accessibility in mind, the area will feature low, tiered, permanent semicircles where an audience can sit, in amphitheater style, facing an instructor or speaker. Much like an ancient agora, this open space will foster intellectual exchange and draw the attention of passersby who will be tempted to join the college's community of ideas.
Lobby and Historic Costume and Textiles Collection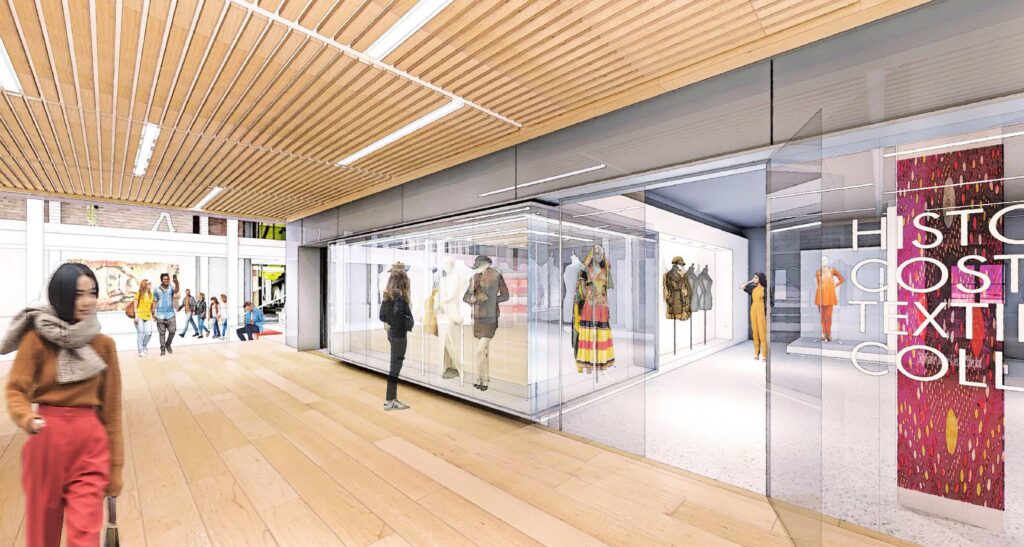 As people enter a new lobby from the west, spacious glass display windows on the right will reveal a gallery housing the latest exhibit of the college's Historic Costume and Textiles Collection. This new venue gives the collection a more accessible, public face.
Visitors will be encouraged to enter the gallery and explore, learning in the process about fashion as a marker of human evolution and ingenuity.
If they're in luck, they might even get to see artifacts from the collection's remarkable and vast Ann W. Rudolf Button Collection, catalogued according to the standards of the National Button Society. How many know the university possesses this treasure and others equally intriguing?
The collection's workrooms will lie just beyond the gallery.
The Teaching Kitchen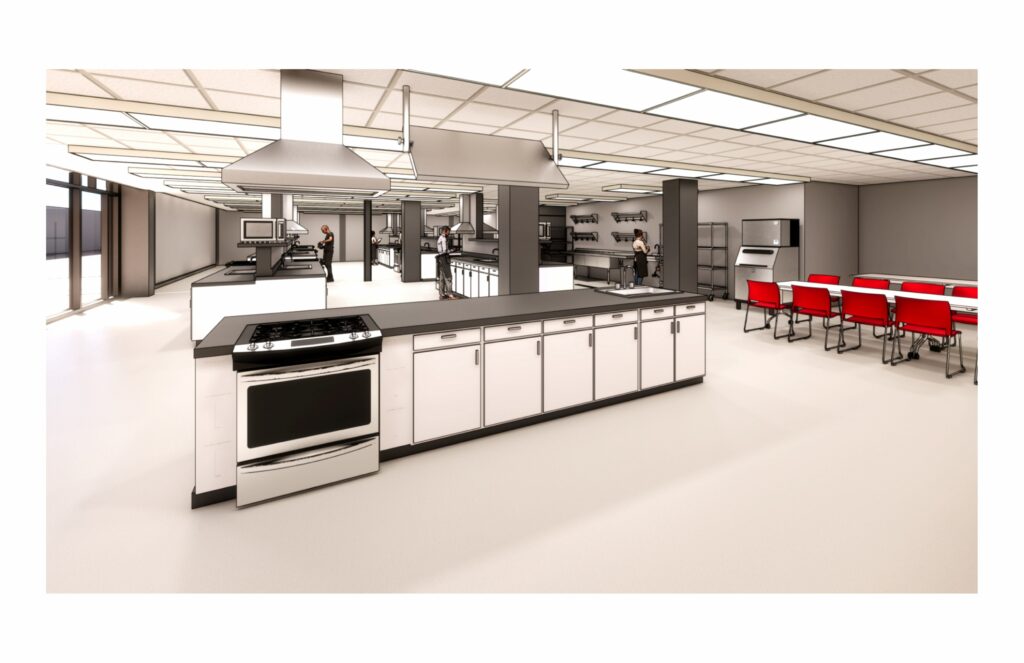 Located on the first floor of Campbell's northwest corner, the Teaching Kitchen will showcase state-of-the-art hospitality management education in action.
Each day, students and faculty will use the six food preparation stations in courses such as the Food Service Management Practicum and Principles of Food Production Management. The space will be furnished with high-quality, commercial-grade kitchen equipment and appliances.
Working in this space, students will learn firsthand how to prepare and style food in safe and sanitary conditions. The experience will allow them to hit the ground running, quickly emerging as leaders no matter where in the world their internships and careers take them.
This space will be easily accessed from the lobby, as well as from an exterior door on the west side of the building.
The Community Gathering Space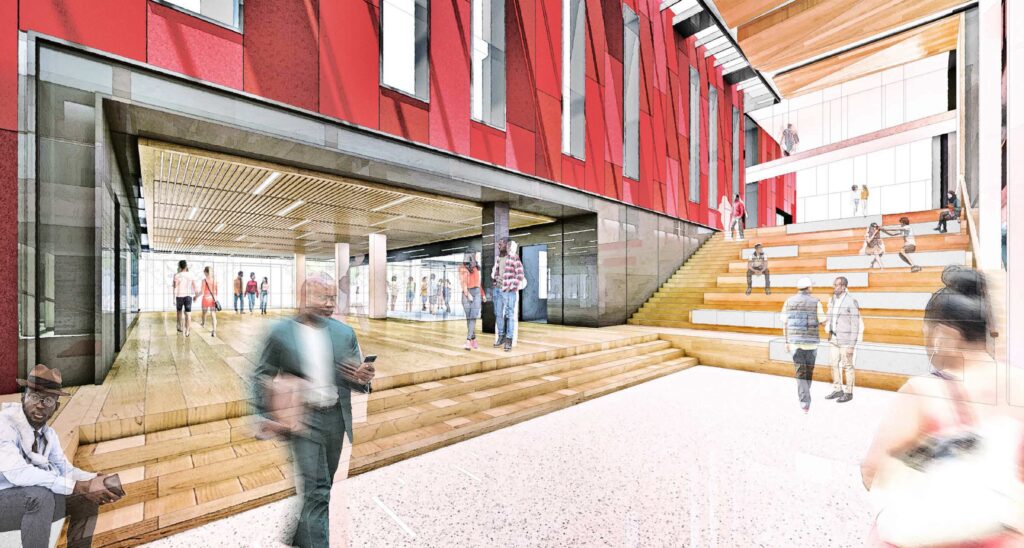 Campbell's new Community Gathering Space will quickly become one of the most inspiring spaces on campus, where community spirit and collaborative learning thrive. Where once dead space was unusable and exposed to the elements, an inspiring and light-filled atrium will arise.
Sunshine will pour down from skylights located three stories above. Expansive windows on Campbell's second floor's west side will look into the atrium, flooding previously windowless offices with light.
Stairs with deep treads and high risers at each end of the atrium allow visitors both to move between stories and take a seat for lectures, performances or informal study. The expansive area at the base of the stairs will allow even more audience seating, promoting a variety of interactions, including college-wide gatherings and events.
With seamless connection to the Teaching Kitchen, caterers will move easily between food preparation and service when the space is used for events.
Second Floor Student Gathering Space
Dedicated to student use, this long, balcony-style corridor will overlook the Community Gathering Space, welcoming study and quiet discussion. Thanks to the comfortable seating and open, airy feel, students will settle in to prepare for class, study for exams or relax between commitments.
The space will also lend itself to informal events for smaller audiences. For example, a class might hold a meet-and-greet with an employer or a guest expert related to one of our top-notch programs.
The aesthetic appeal of this space will be amplified by natural light filtering in from the Community Gathering Space. Its skylights will bathe the area in light, inducing alertness, calm, motivation and concentration — all prerequisites for optimizing both creativity and productivity.
It will also provide students with a peaceful escape from the hustle and bustle of the world outside Campbell Hall.
The Research Kitchen
One key to establishing evidence-based, dietary recommendations to improve human health is conducting rigorously controlled clinical studies in humans. The Biomolecular Nutrition Laboratory on the third floor and the second-floor Research Kitchen are used in tandem as critical facilities for this purpose.
Faculty investigators and their student and staff research teams will benefit from the upgraded workstations and equipment in the kitchen. Their preparation of food or bioactive food components for controlled dietary interventions will be more efficient.
The room next door also will be updated for use in meetings or when educating adults and children taking part in dietary studies. Such education is critical to ensuring compliance with the interventions to obtain accurate results.
Support for the Research Kitchen will enhance our faculty's international leadership in guiding the field toward evidence-based recommendations that can achieve human health.
Biomolecular Nutrition Laboratory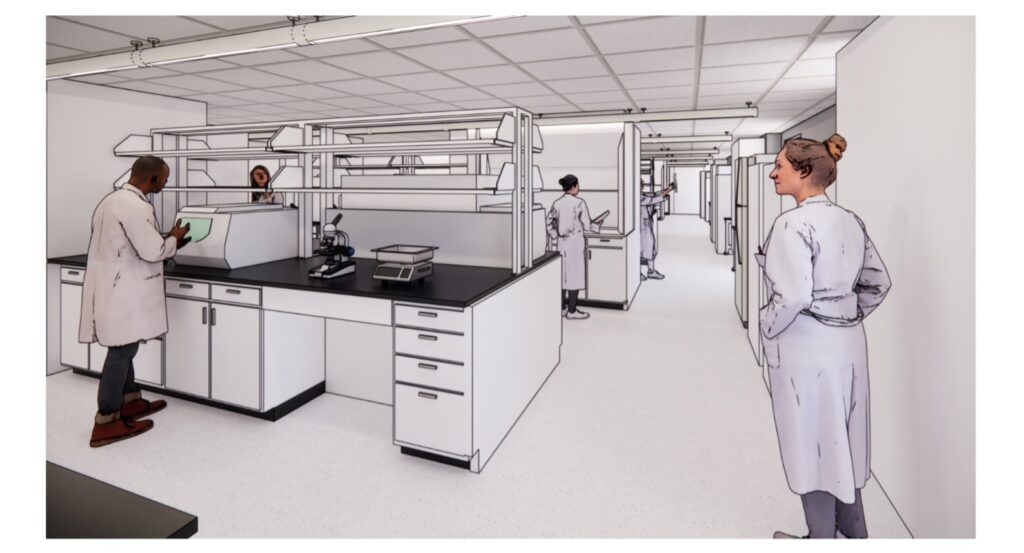 This third-floor laboratory supports research that can enhance human health by examining how dietary patterns, bioactive food components, the microbiome and environmental factors influence cellular processes affecting disease risk.
Transformation of the space will position researchers to conduct cutting-edge studies using state-of-the-art analytical, biochemical and molecular biology technologies. It will dramatically increase opportunities to train the next generation of nutrition scientists — our students.
Faculty investigators and their research teams will conduct studies ranging from mechanistic investigations of (phyto)nutrient metabolism to dietary interventions in animal models or humans. Results will advance critical understanding of how diet quality can extend healthspan.
As a result, the college will continue to build on its reputation for unlocking essential knowledge about how diet protects against disease in humans.
Third Floor Student Collaboration Spaces
Located along the balcony overlooking the atrium, these conjoined spaces traverse almost the full width of Campbell Hall, north to south. Each will serve as an incubator for student brainstorming, creative planning, co-working and collaborative research and design.
This new feature of the building will invite students at all stages of their educational journeys to experience the transformative effect of learning and creating together.
The entry doors and walls — all glass on the west side — will open onto the balcony-walkway that overlooks the Community Gathering Space, allowing — as on the second floor — more light to enter.
The intentional inclusion of this space embodies the college's emphasis on excellence and innovation. It ensures dedicated areas for students to plan projects that change lives.
Launchpad Conference Room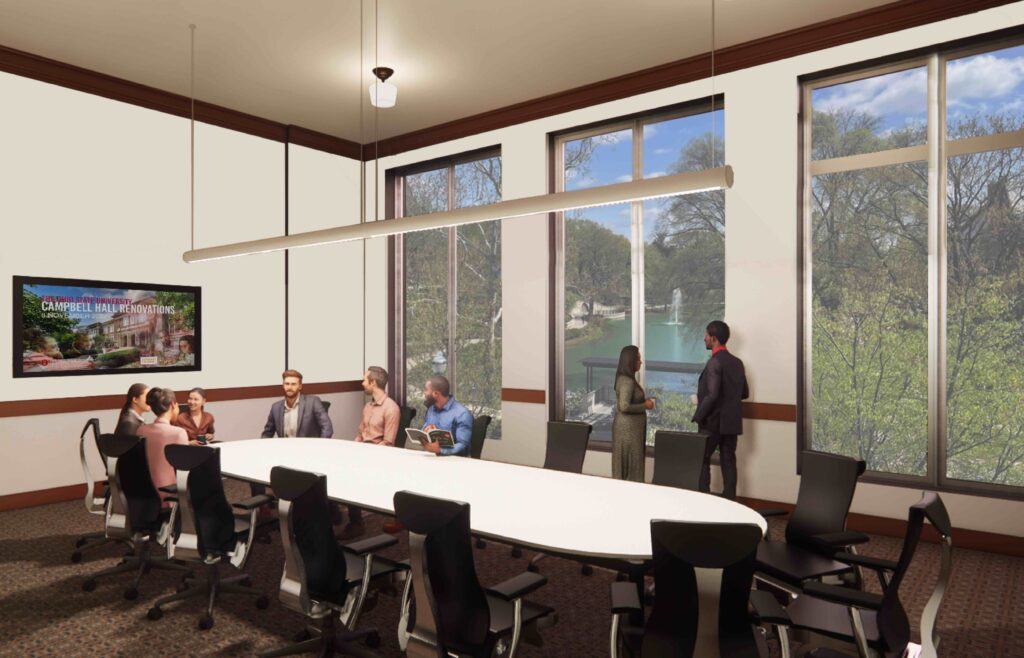 A beautiful conference room with expansive windows looking out on scenic Mirror Lake and the Oval will be the centerpiece of the third floor. Everyone from students to faculty, staff, college leaders, international visitors, donors and other guests will gather in this awe-inspiring space to tackle the human problems of today.
Here, the future of education and human well-being will be expansively imagined and, ultimately, put into play.
Multiple smaller spaces open for upgrades
We are excited about leveraging this renovation opportunity to create numerous small workspaces throughout the building. For example, room 135 will become a classroom for students studying a variety of programs, including fashion and retails studies.
Housing computer-aided design stations, sewing machines, 3-D printers, mannequins and more, this small space will offer ample room to test the use of fabrics, develop prototypes and bring new concepts to life.
In other spaces, education students will use advanced technologies to explore exciting new approaches to teaching and learning. These spaces may be small, but the learning will be enormous.
The Auditorium
Thanks to the auditorium's seating capacity of a couple hundred on the first floor and more in the balcony, the college will continue to use it for courses, events and activities.
With seating capacity of a couple hundred on the first floor and more in the balcony, the college will use this space for courses, events and activities. Other colleges on campus may reserve this space as well.
Replacing the auditorium's seating and adding state-of-the art audiovisual equipment will realize immediate and long-term dividends, as faculty, students, invited guest speakers and performers gather to share their expertise in a modernized space.
Are you inspired yet? To discuss naming a space, contact Pablo Banhos, executive director of the college's Office of Advancement, or make donations directly to the Campbell Hall Renovation Fund.