When Katie Atkinson Smith coaches a blind soccer scrimmage, she isn't on the sidelines. She's on the pitch with the teams, being, as she puts it, "very verbal."
"… you as the coach are constantly describing positioning of the athlete's body," she said on Women's Soccer Coaching. " … what area of the foot they need to use to dribble the ball, along with how far apart their feet should be and at what angle. The ability of these athletes to communicate and orientate themselves to the field astounds me."
Also astounding is Smith's ability to coach blind soccer, which is why she was invited to be head coach of the first-ever USA Blind Soccer Men's National Team this past November. To understand how she got there, it's key to know that her drive to serve others led to the coveted role.
Originally from West Chester, Ohio, she earned her master's degree at Slippery Rock State University, Pennsylvania, studying adapted physical activity. "We were adapting a ton of activities for individuals with a variety of disabilities," she said. "It was my passion."
But before she could finish, she and her husband moved to Columbus for his IT job. So, she finished her required internship in therapeutic recreation at Columbus Recreation and Parks.
After graduating, many people would have found a job and settled into a routine. Not Smith. She continued to develop adaptive programming through Recreation and Parks. From physical education classes for community members to overall fitness, she did it all. Her aim was to ensure access. And in the process, she noticed something was missing.
"No one was doing blind sports or recreational activities for the blind in the Columbus area," she said. "We had a lot for spinal cord injury, for a variety of disabilities, but nothing for athletes who were blind."
Kicking off coaching blind sports for adults and kids
Smith's natural bent for service kicked in. "I reached out to different support groups — the Ohio School for the Blind, community organizations, asking what they needed,'" she said. In response to their requests, she created recreational programming for adults and sports clinics for kids, all for people with visual impairments.
In 2017, Columbus Recreation and Parks hired Smith as its coordinator in the Therapeutic Recreation Department. Then in 2018, she heard about the U.S. Association for Blind Athletes' (USABA) soccer camp for coaches in Baltimore. Smith immediately asked to be invited.
After the camp, Smith set about recruiting for blind soccer in Columbus. "We started with two athletes and have grown to multiple — I would say six to eight adults," she said. "And now I do kids' after-school programming at the School for the Blind. It's continued to grow, which has been really exciting."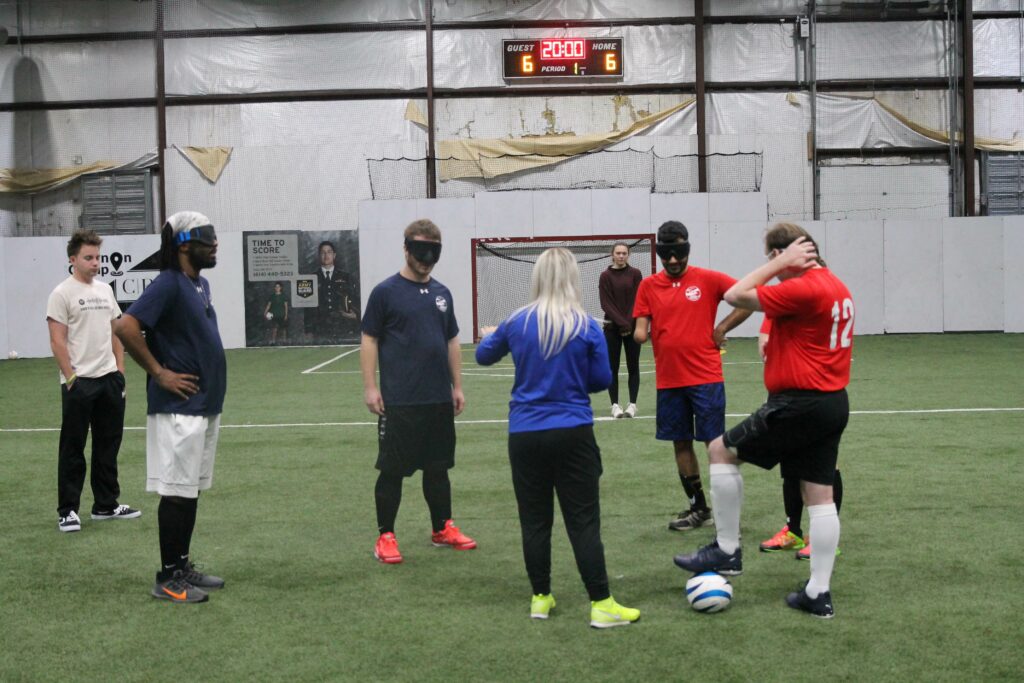 Smith's work often took her to the Ohio School for the Blind. So, she crossed paths with Tiffany Wild and Danene Fast, who also worked with leadership and students there. The associate professor and clinical assistant professor in the Visual Impairment Education program saw Smith as a natural for the doctoral program at Ohio State.
"I had been following Katie's career through our community outreach and engagement efforts," Wild said. "I knew that she would bring a new perspective to our program through her interest in adaptive sports and PE (physical education) that would benefit not only the students in our program but the entire field of visual impairment education. Very little research has been conducted in this area, and I knew Katie was on a career path to help lessen that gap. I knew she was on her way to becoming a rising phenom in this field."
Smith hesitated at first. She was busy with her Recreation and Parks job. She also coached blind soccer activities around Columbus as a volunteer.
How did they convince her? "Honestly, they kept being persistent," Smith said. "Eventually, I began to see it as a calling. It made sense because I love working with people who are blind and visually impaired, and they had a ton of different opportunities."
She entered the doctoral program in 2020. One of those opportunities led Smith to become a Certified Orientation and Mobility Specialist. "It's a big help when I'm thinking about adapted sport and (athletes) moving through space," she said. "I'm bringing what I learn from my PhD — these orientation-mobility techniques — into the practical space of the sports realm."
Two years later, with the Columbus blind soccer programs in full swing, "USABA asked if I could do some events across the country to introduce blind soccer to more people and get it going. I started doing these national clinics for coaches."
The goal is to recruit and prepare enough athletes to send a team to the 2028 Paralympics to be held in Los Angeles. With the momentum underway, in November 2022, the association announced the first-ever USA Men's Blind Soccer National Team.
Smith, who was expecting at the time, made sports history by being hired as the team's first head coach. She recruited coaching staff and athletes from around the country, including Noah Beckman of Columbus. The team won its first international friendly against Canada on March 19.
Benefits of a doctoral program in visual impairment and physical education
The national coaching job is part-time, so, Smith still works for Recreation and Parks. Wild also ensured that Smith teaches in the Visual Impairment program, which helps fund her degree. Smith and her husband also have a newborn son, who went with them to the California match. Despite juggling her many roles, Smith loves what she's doing.
"I'm teaching a disability and inclusion course (EDUTL 5501) this semester," she said, "which prepares future teachers to support children with a variety of disabilities in the general classroom. The exciting part is I get to bring my practical experiences of working with individuals with disabilities to that space."
Smith's students are all engaged in field work or student teaching. "They bring their own experiences to the table," she said. "It's fun for us to collaborate and figure out together better ideas of how they can be more inclusive within their own teaching."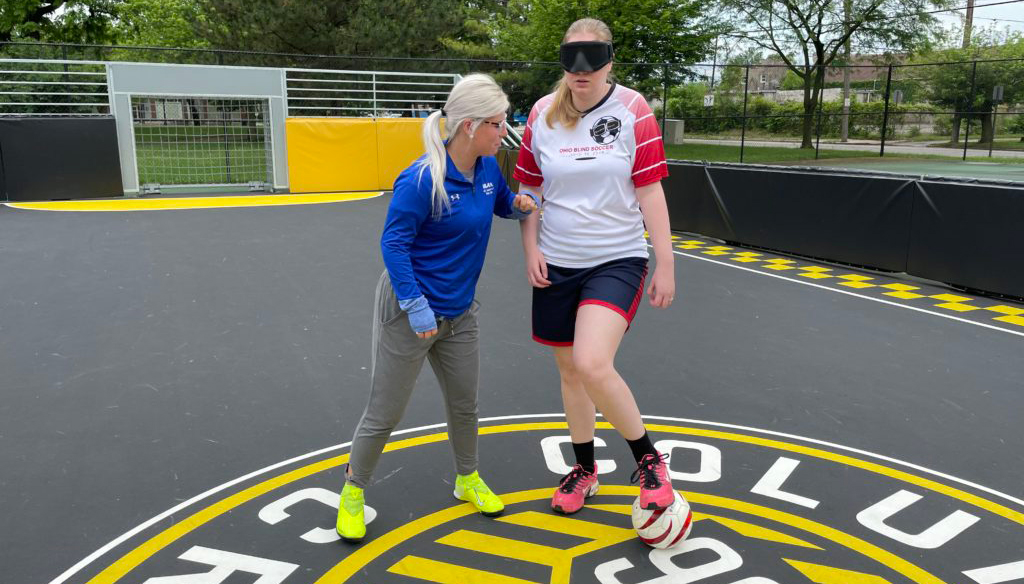 Smith also has received support from the college's Charles B. Huelsman, Jr. Fellowship Fund. Created in 1979 to support a student studying the exceptional child, the award is a perfect fit for Smith. She also has received the American Council of the Blind of Ohio Scholarship.
To complement her visual impairment studies, Smith melded them with the college's physical education coursework under the Kinesiology program. "I remember presenting at a conference in Sandusky and meeting Dr. (Sue) Sutherland," professor of kinesiology, she said. "It's cool that I met all three (faculty) before, and now I get to work with them on a day-to-day basis through the PhD."
Smith appreciates Sutherland's guidance for her research plans. "Ask me to do anything in the field, and I'm a go-getter," Smith said. "But research — that's a different space for me."
She settled on case studies of the national soccer team athletes for her dissertation. Not much research has been done on how blind athletes prepare for and enter high levels of any sport, let alone blind soccer. Smith will document their stories and the process that helped them qualify.
"(My research) may smooth the path for others in the future, help them be aware of key experiences important to lead them to an elite sport," she said.
Smith sees herself continuing to work in the sport space, as well as, she hopes, in higher education. What is her advice for students studying to be teachers?
"I recommend the visual impairment minor," Smith said. Of course, she also recommends any of the college's visual impairment programs, including the PhD. The expertise is in demand by many school districts. "Understanding more about people with visual impairment will help you work with them in your education space," she said. "You'll have a greater understanding of what to do."