Patricia 'Sue' Stanton Fitzsimons, '84 PhD, reflects fondly on her memory of receiving a crystal apple from the college's Alumni Society for the Career Achievement Award. At the 2001 ceremony, with mostly educators attending, Professor Ayres D'Costa, her advisor and nominator for the award, opened his presentation saying, "I gotta tell you folks, we have a nurse in our midst."
Why did a nurse choose to earn a doctoral degree in organizational leadership and development from what was then the College of Education? Her ambitious spirit drove her to attain a higher level of education to become an astute leader.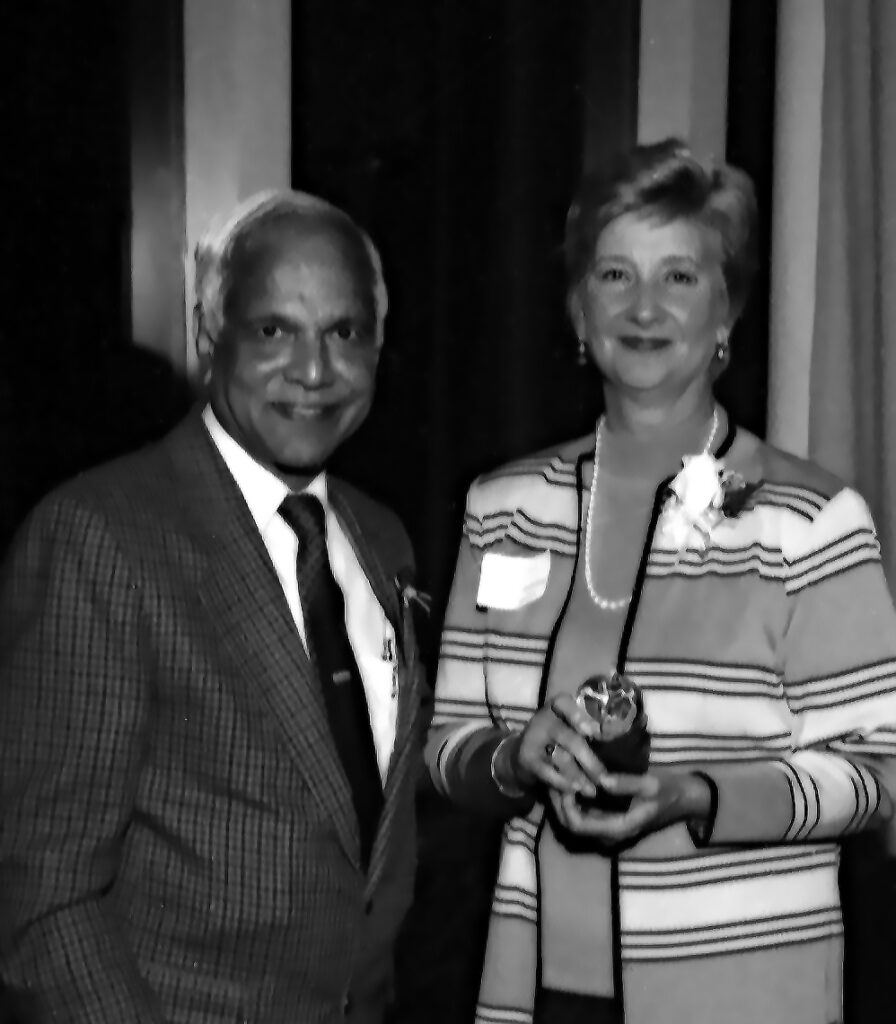 "If life affords you the opportunity, you go get it," she said. "Watch for the door to open and make sure you walk through."
Throughout her career she took chances, and more often than not, she was pleased with the outcome. She rose quickly through the ranks, each step of the way influenced by her prior roles and experience.
Born in New York, Fitzsimons received her Bachelor of Science in Nursing from Cornell University. She managed graduate school by working as a staff nurse during the day and attending night classes at Adelphi University.
"At Adelphi, I thought I would like to be a clinical specialist, zeroing in on the specific body entity and becoming a real expert in the care of those patients," she said.
Irresistible offer leads nurse to minor in education
One day, Fitzsimons got a call from a friend at New York University. The result? NYU offered her a title grant, specified to fund higher education for nurses, if she would transfer from Adelphi. The grant would cover full tuition, fees, books, and she would receive a tax-free, monthly stipend.
"As you can imagine, that had a high level of appeal," she said. She started at NYU after only a year at Adelphi.
"NYU's program was very different," she said. The university's Master of Nursing program required a minor. On a whim, she chose education.
As part of her minor practicum, Fitzsimons taught nurses at the local community college. "It gave me experience in clinical and classroom teaching," she said.
After relocating to Ohio for her husband's career, her minor in education propelled her into assistant professor positions — roles that usually require a PhD — at Wright State University and Miami University. "The minor opened a door I didn't know would need opening," she said.
"I was able to say, 'I have a minor in education, and I've taught at the community college level.' So, they took me on."
Spelling out the benefits of well-educated nursing staff
Fitzsimons advocates strongly for nurses to receive higher education. She did so for 10 years while senior vice president of hospital operations at Miami Valley Hospital in Dayton, Ohio. She especially encouraged staff while senior vice president for Patient Services and chief nursing officer at Yale New Haven Hospital, Connecticut.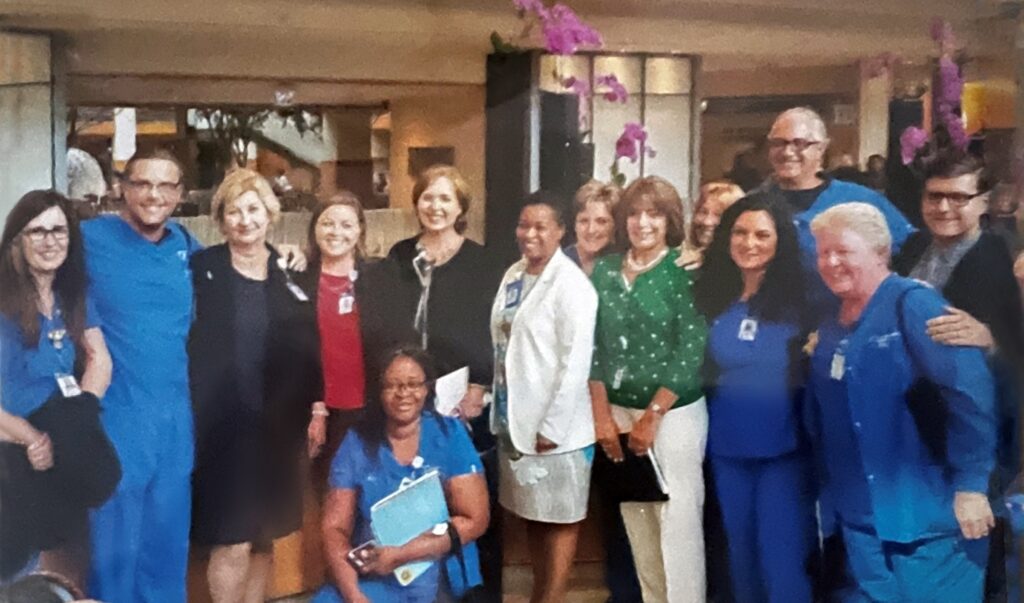 "I pushed my staff, and I mean pushed, to always go on and get graduate degrees. Nursing needs well-prepared faculty and leaders," she said.
Fitzsimons acknowledges that many barriers inhibit nurses from earning higher degrees, including time, money and family, but she believes there is always a way. Nurses need to be well versed in the latest research to offer premium care to their patients, she said.
"For nurses to read facts and articles with data and have a basic knowledge base, an understanding of correlation and coefficients, and what those terms mean … nurses can read (the latest research) and make some sense of it."
Ohio State supports mother completing PhD
Her experience in teaching drove Fitzsimons to seek a PhD in education. Very few universities offered her ideal program, but what was then the college's Organizational Leadership and Development program "struck her interest."
Fitzsimons was admitted into the program and assigned an advisor, D'Costa, based on mutual interests. D'Costa was working on developing national certification exams to evaluate physician assistants.
"When choosing who might be an effective mentor for me, they thought physician assistant, nurse, same thing," she said.
At the time, Fitzsimons had three kids. She would walk into D'Costa's office with her daughter, Kate, on her back, and sometimes two other little ones trailing behind her. "He would always have something for them to do," she said. "He was always willing to help the working mom, making finishing my degree easier."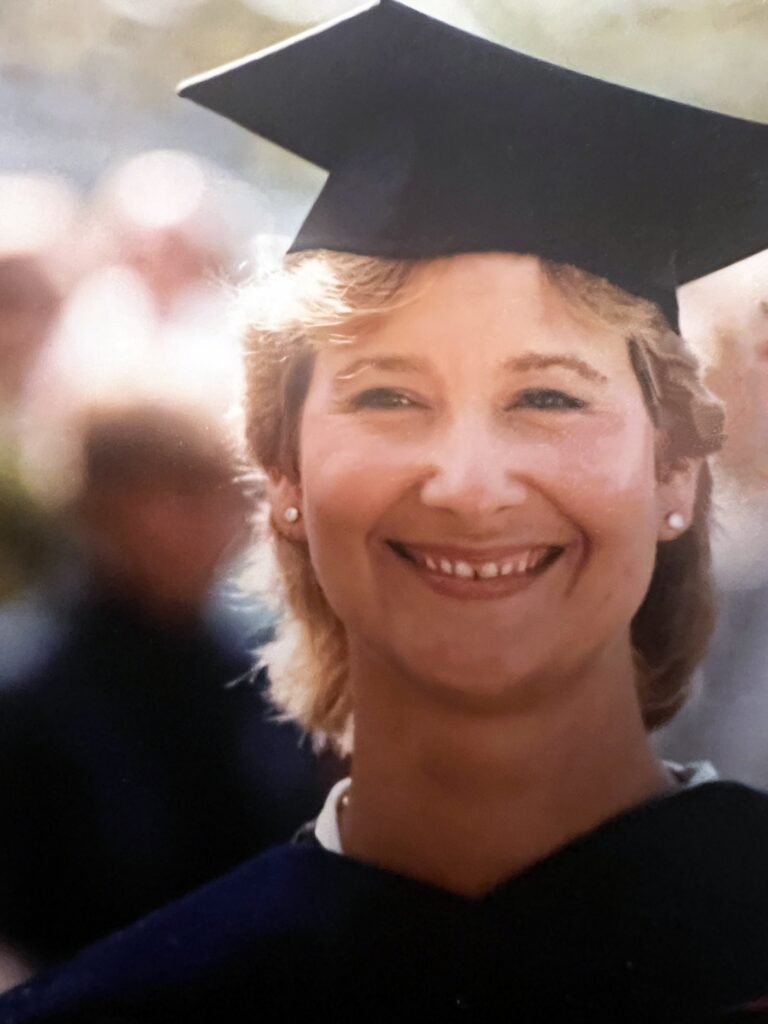 Fast forward roughly 30 years, and Fitzsimons' son, Brian, was working in a Columbus clinic while attending medical school at Ohio State. One day, Brian was seeing a patient and recognized him. "I think you know my mother," he said.
Sure enough, the patient was D'Costa, and Brian remembered him from the days he had spent in the professor's office with his mother.
D'Costa never hindered Fitzsimons' ability to be both a mom and a student. Still, he challenged her academically. "He never let me off the hook," she said.
Ohio State was a door Fitzsimons is glad she walked through. "I graduated from Ohio State with skillsets not a lot of other people had," she said, "I knew how to prepare professional, well-thought-out presentations, manage teams, understand organizations and develop strategies to move forward. OSU at the end of the day was the perfect choice for me."
Alumna guides hospital to highly sought recognition
During Fitzsimons' 20 years at Yale New Haven Hospital, she led the institution to earn the Magnet Recognition, the highest honor a hospital can receive for nursing excellence.
At the time of the hospital honor from the American Nurses Credentialing Center, only 6.61% of all registered hospitals achieved ANCC Magnet Recognition status. Magnet organizations achieve premium patient care and innovations in professional practice.
From the sanitation department to the emergency rooms, Fitzsimons engaged with and motivated hospital staff to work their best. "It wasn't about me. I was significant to the process, and they couldn't have done it without me, but it was the staff and culture that we built."
The evaluation process for the Magnet took 14 months — a "grueling" process, Fitzsimons said. "The day that we heard we had been successful was probably one of the most rewarding accomplishments ever. It was absolutely invigorating and joyful."
The hospital first obtained the designation in 2011, then again in 2016 as required to remain active. Although Fitzsimons retired in 2017, the hospital attained the designation yet again in 2021. The culture she built lived on.
Fitzsimons' resume outlines a litany of awards and accomplishments. Among them, she was nominated by her staff for the Doris Armstrong Award, the highest award from the Connecticut Nurses' Association.
Her background in education elevated her career in nursing. "I've had more than one physician in my career say they respected me because of my background and my education."
She never refused an opportunity, and she persevered to earn the high degrees she desired, even with a kid on her back. She saw doors open, and she marched right through.