The worldwide leader in private aviation established an endowed scholarship fund this year, pledged to provide paid student internships and much more.
NetJets Inc, the world's largest private aviation company, has an opportunity. It isn't just projecting growth; it is in full growth mode. The company has more than 500 aircraft in the United States, more than 100 in Europe, an aircraft management company with more than 200 aircraft and has already sold full use of all of them through 2023.
As they grow, fueled by the pandemic when commercial and charter options became far less available, the need for more industry-leading talent is becoming a priority. The company's leaders are asking, "How can we proactively resource service-minded candidates?"
One answer came when Kayla Powell, '18 Bachelor of Science degree, was hired to be a sales consultant. During her late 2021 interview with Patrick Gallagher, president of Sales, Marketing, and Service at NetJets, he noted her degree from Ohio State's Hospitality Management program and asked to be connected to a point person.
Powell referred him to Anne Turpin, clinical associate professor of hospitality management, and the dialogue began.
As a result, NetJets, backed by Warren Buffett's Berkshire Hathaway, has committed to the following:
Endowing a scholarship to support the college's hospitality management undergraduate students
Mentoring hospitality management students during paid, hands-on internships with NetJets
Providing classroom speakers for discussions about best practices in service
Engaging leaders at business networking events on campus to broaden students' vision of career opportunities
Providing a company executive to sit on the Hospitality Management Advisory Board and offer insights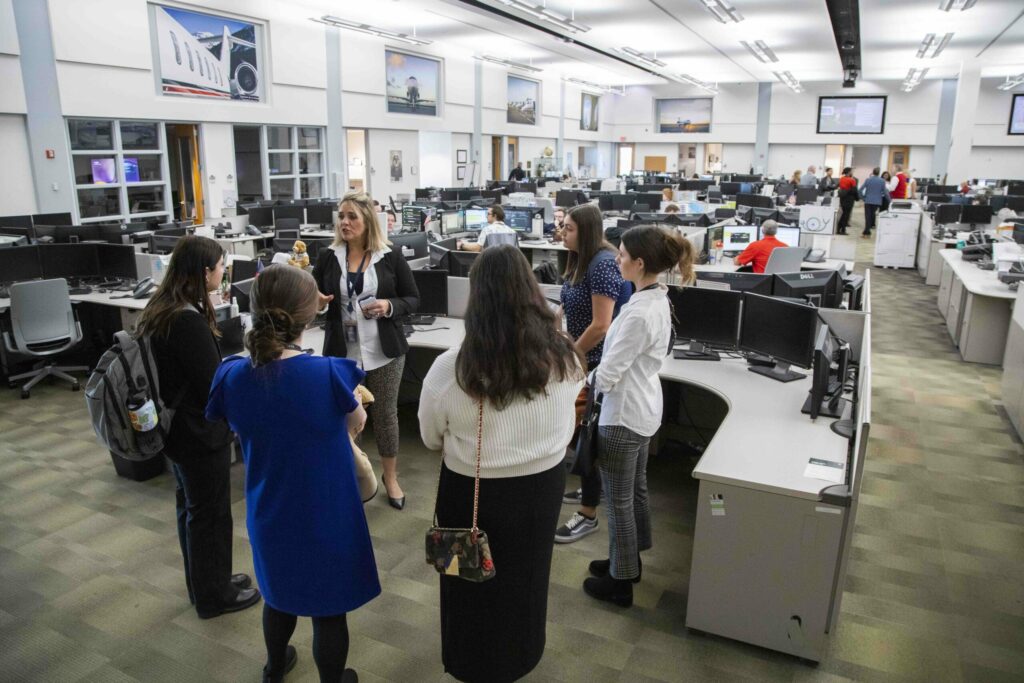 "NetJets is known for our unwavering commitment to safety, service and unmatched global access," Gallagher said. "Our service mindset matches perfectly with that of the Hospitality Management program. We see a partnership as a way to provide mutual value. We'll add support and insights to the program as part of students' education experiences. In return, our talent pool expands."
NetJets scholarship to double, thanks to Cameron Mitchell Restaurants
To add to the impact of the NetJets gift, Cameron Mitchell Restaurants (CMR) will match it. The restaurant group created a fund last January expressly to augment gifts of $100,000 or more for hospitality management undergraduate scholarships.
Once the NetJets and CMR pledges are complete, the new fund, because it is endowed, will support double the number of undergraduate students in perpetuity. The match also supports Ohio State's Scarlet & Gray Advantage concept aimed at reducing student debt.
The collaboration opens a new hospitality track for students.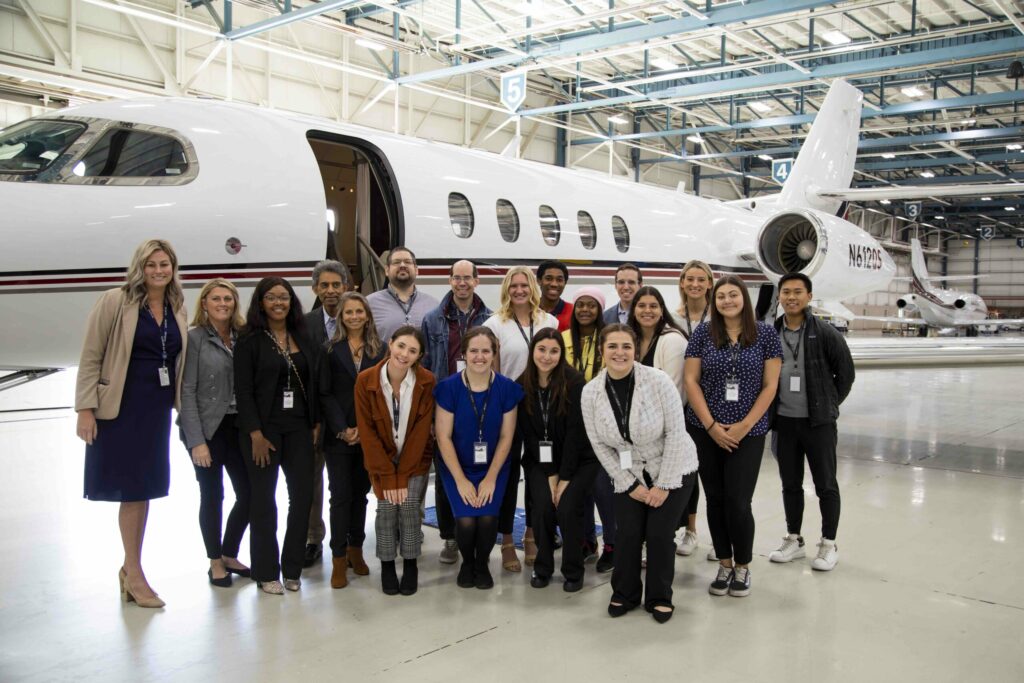 "Many segments in the hospitality industry are experiencing demand that exceeds 2019," Turpin said. "Our goal is to build program enrollment and enhance our student experience. That translates into building a pipeline of workforce talent for companies like NetJets. Expanding traditional pathways in hospitality beyond hotels, food and beverage broadens diversity in student opportunities and long-term retention in the industry."
Turpin also said the partnership advances the program's diversity, equity and inclusion. "When you can support students through an endowed scholarship," she said, "that certainly connects to all of those goals."
Gaining hands-on experience with NetJets
More than a dozen hospitality management students, along with Turpin and Jay Kandampully, professor of hospitality management, lined up on September 23, eager to step inside the Citation Latitude looming large in the NetJets private hangar.
To launch the new partnership, Brittany Francis, vice president of Owner Services, hosted an event at the Columbus world headquarters, complete with guided tours from NetJets associates, a service enlivenment presentation and a five senses expo displaying how NetJets strives to touch all five senses during flights.
Students learned that each company customer — known as an "Owner" — buys a share of a jet's time.
Tour guides said that to meet the burgeoning demand for its services, NetJets needs more staff who understand how to provide exceptional customer service. This aligns with the focus of the Hospitality Management program on consumer sciences. Students study consumer-market relationships with emphasis on identifying and solving consumer problems.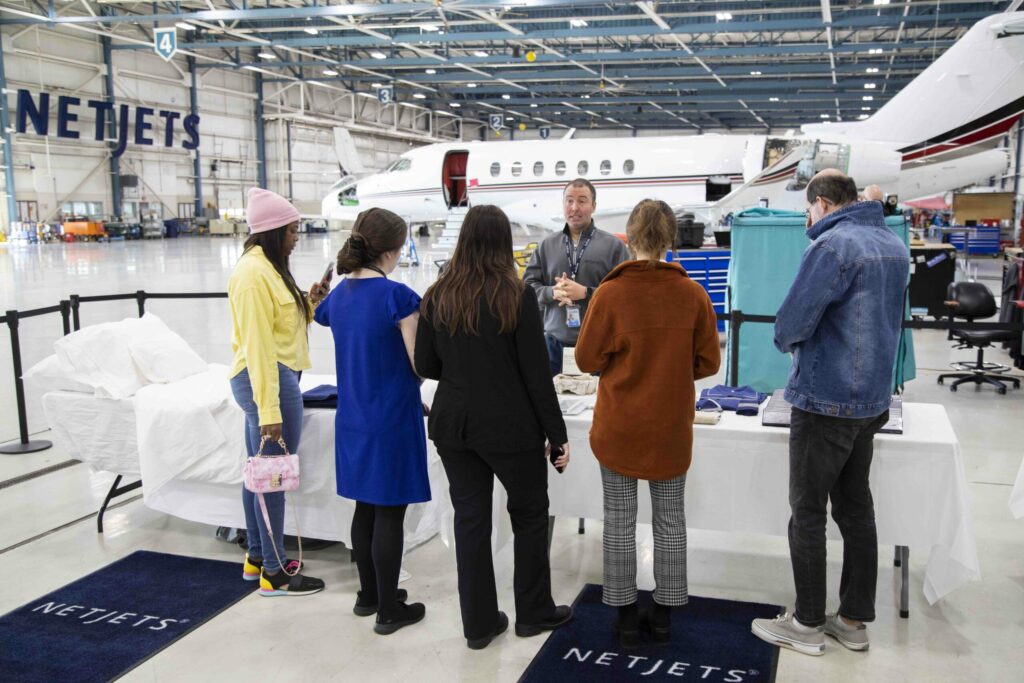 "I was definitely impressed with their passion for how much they go above and beyond to make sure all their Owners are well taken care of," said José Cook, a junior in the program who took part in the tour.
Cook noted the guides' description of their special events, for example, travel and private gatherings for Owners at the Super Bowl and the PGA Tour. "I never knew that events (with catered meals) and aviation could be mixed," Cook said, "so I'm interested in learning more."
Two of the guides explained how long they'd been with NetJets and the importance of caring for the Owners and each other. "When people stay for a long time at a company, there's a reason," Cook said. "The culture they describe is inspiring."
Megan Piatt, a senior in the program who attended the tour, said she could tell NetJets continues to evolve and grow, "but what stuck with me is their emphasis on genuine hospitality," she said. "They ask, 'Who's taking that plane where and why?' They get to know their Owners down to every detail so they can enhance the experience."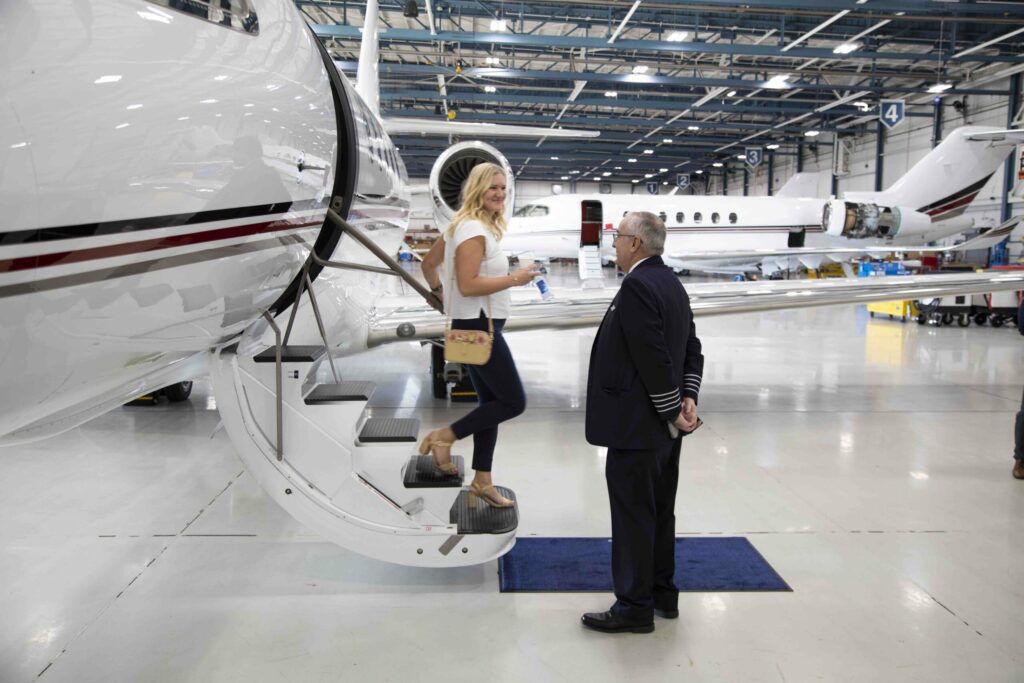 Piatt is pleased to see that a company with an international and national presence and with service at the heart of its business is in Columbus. "I'm grateful for the partnership," she said. "I think it offers amazing opportunities."
Adding to the benefits, NetJets is offering yet another hands-on experience for hospitality management students. The company will fly up to 14 of them onboard a private jet to the annual HX: The Hotel Experience conference in New York City this November.
Turpin emphasized that students will gain a unique value by experiencing the safety, service and efficiency of NetJets themselves. "Once they land at Teterboro Airport in New Jersey, they also will tour and learn how the largest private airport in the U.S. operates," she said.
Improving lives through quality service
Alumna Kayla Powell said she loved her program at Ohio State. The hospitality courses were small in number of students, she said. "The professors gave us first-hand experience—in hotels, restaurants, event planning. They always got us involved outside the classroom."
After graduation, Powell worked in local lodging venues, first at the front desk, then in sales, for four years. Then she heard about an opening at NetJets. As Powell interviewed, she learned that many of the executives had worked their way up in the company and had been there 10, 20, even 25 years.
"That's what I was searching for," she said. "A place where I could really plant my feet."
Now at NetJets, she's doing what she liked best about hotel work. "At the (hotel) front desk, I talked to new people each day," she said. "Now, every week, I meet brand-new people."
One of Powell's mentors helped her realize the goal is not to make a sale every day. "It's about helping people find the right travel solution that is safe and convenient for them," she said. "If you focus your day on that and you're genuine about it, people can feel that."
The company emphasizes safety first, followed by service. For instance, the tour guides explained that all the aircraft always have two pilots who are trained to fly only that aircraft. That way they know that aircraft inside and out. They have the latest technology, industry-leading maintenance programs, the most advanced training and the newest fleet.
Powell also appreciates the company culture and management style. "Patrick (Gallagher) is an example of leadership acting on what they say they'll do," Powell said. When she provided a contact in the Hospitality Management program, he followed up, with positive results.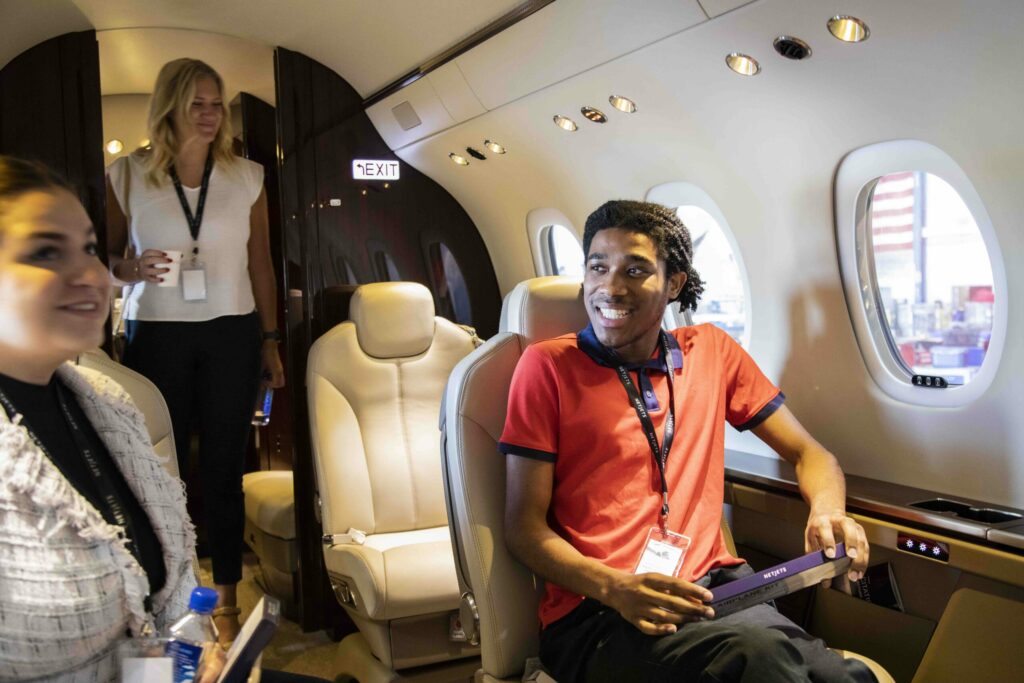 Supporting corporate giving, sustainability
The company supports people through its many charitable giving partnerships. Among these is their longtime partnership with Ohio State in terms of aviation engagements, donation of aircraft, and related areas of business alignment. Another giving opportunity is their work since 1997 with the Corporate Angel Network.
Through the network, NetJets Owners donate flight hours to adult and pediatric patients traveling to and from medical treatment programs. NetJets matches those hours, paying for more flights.
Sustainability is also important to NetJets. "Sustainable aviation fuel (SAF) is definitely something that NetJets has a vested interest in," Gallagher explained. "We continue to work toward ways to have greater access to SAF."
SAF can reduce greenhouse gas emissions by up to 80% compared with convention jet fuel. NetJets has more initiatives meant to reduce its environmental footprint, including recycling on its flights and supporting organizations such as The Nature Conservancy.
Overall, the partnership is off to an excellent start. "There's never been a better time to get into hospitality because of the plethora of opportunities available," Turpin said. "So many of our industry partners are focused on building the next wave of leaders."
The Ohio State Hospitality Management program works with the university's Office of Corporate Relations to engage NetJets and other industry partners in experiential learning for students, industry advisory board, talent recruitment, faculty relations and student support. To discuss giving opportunities, contact Executive Director of Advancement Pablo Banhos and his team or call 614-292-1426.