Tasha Lewis works to shine a spotlight on the sustainable fashion world through her research and teachings. Returning to Campbell Hall from Cornell University, where she earned a PhD, joined the faculty and won a distinguished teaching award, she's ready and excited to give back through her research and sharing that knowledge with students.
Now as the Nina Mae Mattus Clinical Associate Professor of Textiles and Clothing, Lewis teaches fashion and retail studies while focusing her research on sustainability, post-consumer textile waste and how it can be managed to decrease landfill waste. She also centers her work on the impact of technology in the fashion industry and social responsibility as it pertains to businesses, corporations and consumers.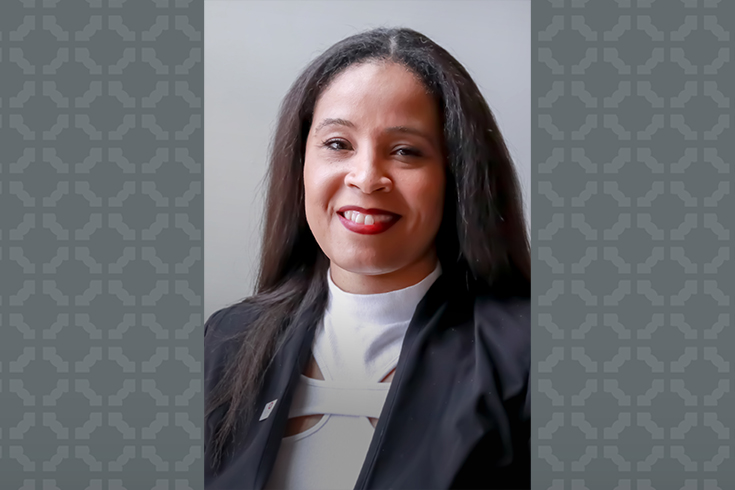 Lewis started off as an Ohio State undergraduate majoring in Spanish, but she soon returned as a graduate student in what was then called textiles and clothing.
"When I wanted to go to college, I kept saying, 'I want to study fashion," Lewis said. "I missed (the opportunity) because they didn't call it fashion. It was called textiles and clothing." Even in high school, Lewis' guidance counselor tried to dissuade her from working in fashion. But she knew this was what she wanted to do.
It wasn't until her senior year of undergrad that she found the textiles and clothing department, knowing this was where she should have been. Tasha Lewis obtained her master's in consumer and textile science, and soon, her PhD in fiber science and apparel design.
Lewis has always been interested in sustainable fashion. It was actually the first class she took as a graduate student. Taught by her advisor, it focused on green fashion production and social responsibility in fashion production. "It wasn't what I thought it was going to be … but over time I was connected to more activity that kept emerging around sustainability." Lewis found that balance between her research interest in this topic and international issues in the apparel industry.
Working on a more sustainable world
As of late, Lewis not only has insight into the sustainable fashion production process and its many moving parts, but into what really happens when we get rid of our clothes and how that turns into waste.
It is easy for consumers to look the other way when the new and fast fashion that is produced catches our interest and fills our closets. When that item starts to deteriorate quickly, or new styles come out next week, these garments are more likely to be thrown away. They end up sitting in a landfill.
Lewis encourages us to understand where our clothes are made and that humans are sewing our clothing, that it took a lot of labor to get this product. Truly appreciating the garments made for us and being aware of how everything is made can help with being more mindful of our consumption.
Returning to Ohio State
Lewis has been excited to return to Ohio State. Not only does she get to be nearer to family, but she also will get to utilize the amazing resources provided, especially when it comes to expanding her research. Not to mention the comfort she gains from being a Buckeye. "It was kind of like you're coming home; it's very familiar. And it still has a fashion program, which I was very excited about."
As she teaches bright minds enrolled in the fashion program, Lewis hopes that they, too, will understand the industry but also think of ways in which they can make it better.
"It's a wonderful and glamourous industry. In a way, it does have good and bad…so I always have them think critically of the industry" so that when they contribute, they should think about ways they can make it better and address the problems we face.
She'd also enjoy giving back through her support of graduate students. "We are refreshing our graduate program, so I love it," she said. "I would like to see that be more robust. We can support graduate students and research in addition to the great teaching that happens."
Making the program more visible — all the aspects of it — is also one of Lewis' goals. "I want people to know that we have a fashion program and that we talk about these (sustainability) topics." Fashion is more than just design and Lewis wants to let students know that there is a whole world of other jobs and roles in the fashion industry.
Memories of Campbell Hall
Returning to Ohio State after 18 years away, Lewis was amazed at all the changes to the campus but going into Campbell Hall was very familiar.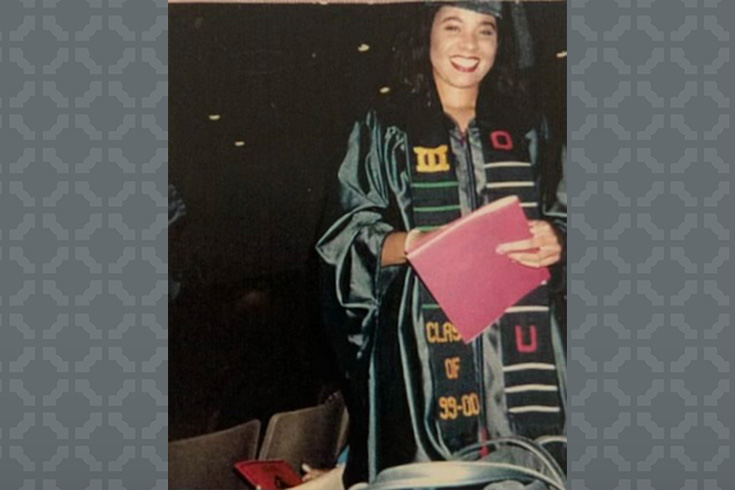 She has fond memories of her time in the building. That was my "landing home space" as a grad student, she said. She recalls being in the grad office on the second floor of Campbell. "We would talk about things — research and issues — and we had a camaraderie." Her new office remains in the same corridor as her former grad roots and that feeling of it all coming back is nostalgic.
"I go in there, and I remember this office, that office. Even when I was a lecturer, I had an office in that corridor, so I do remember how much time I spent in it." She talked about how she remembered the rooms she taught in, which were all at Campbell.
She is excited to see the renovations and looks forward to seeing how they will honor the history of the building.