Throughout her life, Ann Paulins has kept a list. On it are different paths she could see herself taking.
"I'm not afraid to change and do something different," Paulins said.
For this reason, Paulins has spent the last 30+ years pursuing opportunities to learn and grow. Her paths have taken her from Athens, Ohio, to Columbus, Ohio, and back again. Her current stop? Teaching at Campbell Hall, the same building she graduated from in 1992.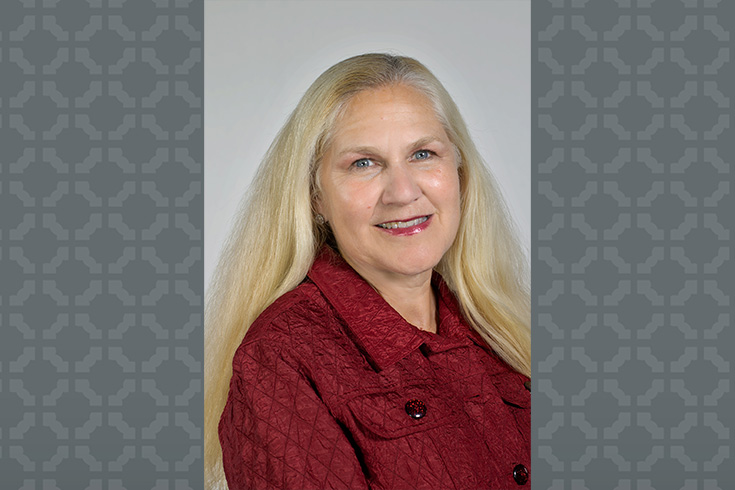 The beginning: Lifelong foundations
Paulins grew up in Athens, Ohio, and earned her bachelor's degree in home economics, fashion merchandising and promotion and her master's degree in textile science, both from Ohio University. Although she had not planned a career in teaching or academia, a pivotal moment in her master's program set her on that path.
"I had the opportunity to be a teaching assistant in a sewing lab, which was a very strong skill that I held," Paulins said. "I did a lot of sewing, and some fashion design. And I found that was about the most fun I ever had."
Paulins came to Ohio State as a doctoral student in 1987 in what was called the Textiles and Clothing program. She found her place among peers who thought like her, had similar interests and were passionate about learning.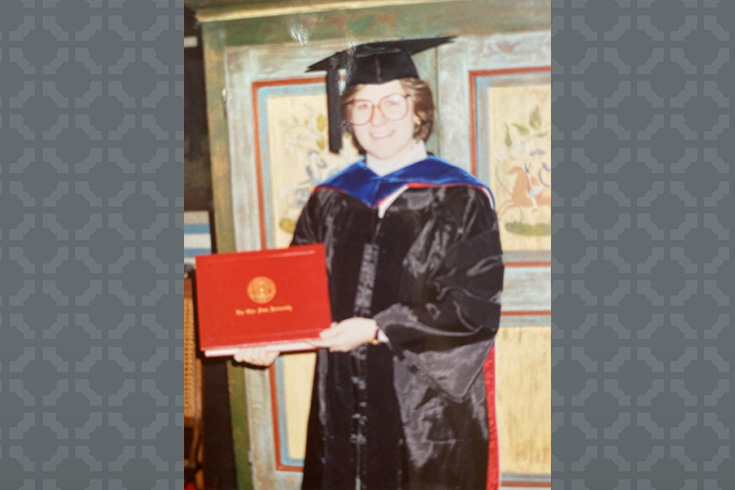 "That was so exciting, and I really developed lifelong friendships with people who were my fellow graduate students," Paulins said.
Among these lifelong friends is Julie Hillery, a fellow Boomerang Buckeye and clinical associate professor in the Fashion and Retail Studies program. Paulins and Hillery have co-authored multiple books, including Ethics in the Fashion Industry in 2016 and Guide to Fashion Career Planning: Job Search, Resumes, and Strategies for Success in 2010.
The pair have a history that stretches back to a 1987 trip to the International Textiles and Apparel Association national conference in Kansas City, Missouri, an organization that Paulins and Hillery have remained involved with for 30 years. Paulins, Hillery and fellow graduate student Betty Fritz-Cook traveled together.
"(The International Textiles and Apparel Association) is the premier organization professionally for people who teach fashion," Paulins said. "We had that experience, which, of course, when you travel, it's all a bonding experience."
About a decade later, both at different institutions by then, Paulins and Hillery reunited in an elevator at the same conference.
"Our collaboration, research and writing were really born then," Paulins said.
Learning and growing in academic excellence
After her time at Ohio State, Paulins spent 32 years at Ohio University, in the town where she grew up, in various positions. First, she advanced through academia to become a full professor. Then she became the associate dean for academic outreach and engagement, and the senior associate dean for research and graduate studies.
"I had these great opportunities for leadership," Paulins said. "I had mentoring from some really outstanding academic leaders. I had a chance to be active in faculty governance."
Her experiences allowed her to continue learning and growing.
"Leadership was something that gave me an opportunity to really think about my priorities as a teacher and as a human and be able to focus on finding ways to enrich and contribute to student learning," Paulins said.
The return to Campbell Hall
In August of 2021, Paulins returned to Ohio State as a clinical associate professor in the Fashion and Retail Studies program. The area had changed significantly in the years since her doctoral program.
"The industry is so different," Paulins said. "There are so many different career opportunities for our students."
As the industry continues to change, Paulins looks forward to Campbell Hall's simultaneous evolution.
"We're going to be able to recruit students in a state-of-the-art facility, and we're going to be able to enjoy the professional atmosphere that will be created," Paulins said. "We'll be able to celebrate our textiles and fashion historic collection with a great exhibition space."
The renovations coincide with the program's future plans.
"(We're) re-imagining and re-launching a master's program, so a graduate program," Paulins said. "We hope that down the road, we can support a reintroduction of doctoral study at Ohio State."
The master's program may include a social justice niche that embraces the areas of expertise that professor and fellow Boomerang Buckeye Tasha Lewis, postdoctoral scholar Cydni Robertson, Hillery and Paulins bring, Paulins said. She hopes that the program will inspire future students.
"I'm very excited about the renovation of Campbell Hall," Paulins said. "To have a space that people will come back to, or people will come to for the first time and have a great environment for learning and reconnecting is exciting."