There's a moment on the water when the women cease to be individuals. It happens when they feel the rush of the river thrumming against the boat beneath their feet. When the slightest pull or adjustment to their technique nudges them in a different way through the water. When they give themselves over to the boat and meld into their oars, into the hull, into their teammates.
"You stay quiet. You listen to everyone else put their blades in the water and take them out. It's rhythmic," said Kelly Murray-Takacs, '96 BS, a member of Ohio State's first varsity Women's Rowing Team in 1995-96.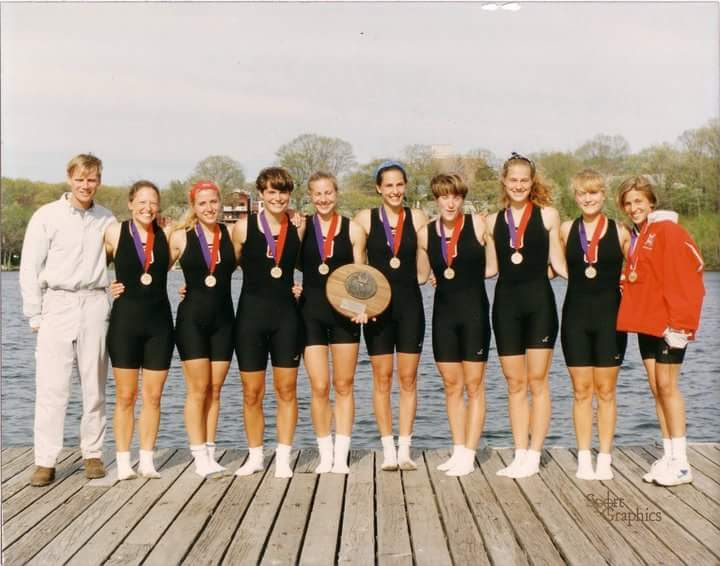 Murray-Takacs recalls "being mesmerized" by the beauty of the rowing while she studied on the lawn outside Morrill Tower. The boats, the women and their oars synchronized in a choreographed dance across the water.
Murray-Takacs was smitten. She had never rowed before but learned as a walk-on to the team her second year of college. The experience was near to spiritual, she said.
"I remember being on the Olentangy River and saying, 'Remember this. Don't ever forget this. Hold on to this.'"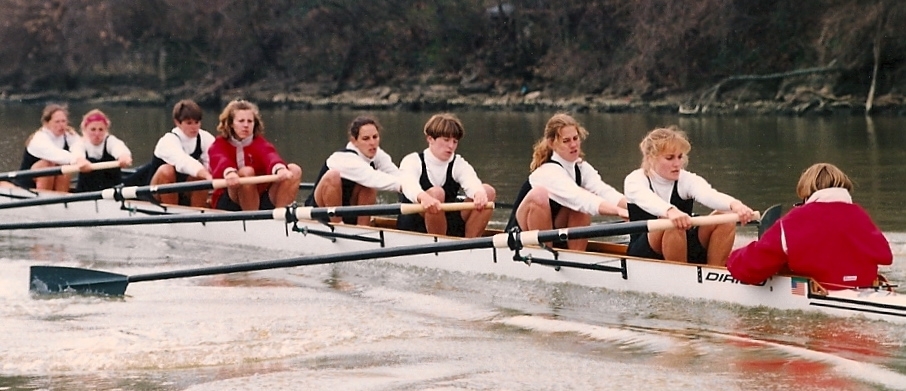 Back then, Women's Rowing was a club sport. In 1995, Athletics Director Andy Geiger pushed to make it a varsity sport. Title IX regulations had forced many universities to cut men's sports so that women's teams were equitably represented. Geiger, a collegiate rower himself, decided instead to increase the number of women's sports.
Besides Murray-Takacs, only a few women from the then-College of Education and the College of Human Ecology were on that first varsity team. Only one was in a sports-related major. Rowers participated in several kinesiology studies by the college, which examined everything from blood oxygenation to the effect of high-carb diets on power output.
Today, the team has grown to 55 members; eight are in Education and Human Ecology. One of those — Anneta Kyridou — is an Olympian. Several were recruited from overseas. Nearly all are in sports-related majors or minors, including sport industry, exercise science and health promotion, nutrition and exercise science. Most want to become coaches, kinesiologists, athletic trainers, sport dietitians. They are women fully immersed in the science and art of sport.
"Seeing women as CEOs and managers of sports teams has begun the process of breaking down the barrier of accessibility to women in the sports field," said Women's Rowing Graduate Assistant Coach Cailly O'Toole, BS '20 and now a sport coaching master's student in the college. "Women have unique perspectives and experiences that can add value to the male-dominated field of sports."
O'Toole loves the unique way people develop through athletics, she said. "Sports can help you find new versions of yourself and can help you push beyond your limits."
The rowers certainly push limits. They are intensely strong, almost astonishingly so. The kind of strong that comes from hour upon hour of hard and painful movement, at the rowing machine and in the hull. Compress the body, then extend hard through the legs.
"You are working all the muscles," said Kyridou, a freshman from Greece who studies sport industry and placed 10th in women's single rowing in the Tokyo Olympics. "It's not that you need more legs or more body; you need everything. And you also have to combine strength and endurance and technique."
All that torque gives momentum to the arms and to the oar. Compress, extend and row. Over and over again.
"Even though it's the same movement, every stroke is different," said Jessy Vermeer, a senior from Amsterdam majoring in sport industry.
Multiply the power times eight and the outcome is nothing short of glorious. "I really love when you're with all eight at the same time in the water and the boat really moves," Vermeer said. "That gives me a happy feeling."
As she described the sensation of flying through the water, her teammates from the college surrounded her. Their normal practice space in the Shumaker Center had been temporarily closed. So they had just done trials on ergometers, or rowing machines, deep in the open-air hollows of Ohio Stadium — in early March.
They had "erged" for nearly two hours with only three five-minute breaks, hardly noticing that it was 37 degrees Fahrenheit. On the boats, they said, it feels very different.
"When you change one technical thing, you automatically get the feedback from the boat," said Isi Huebener, a freshman sport industry major from Germany. "That's amazing."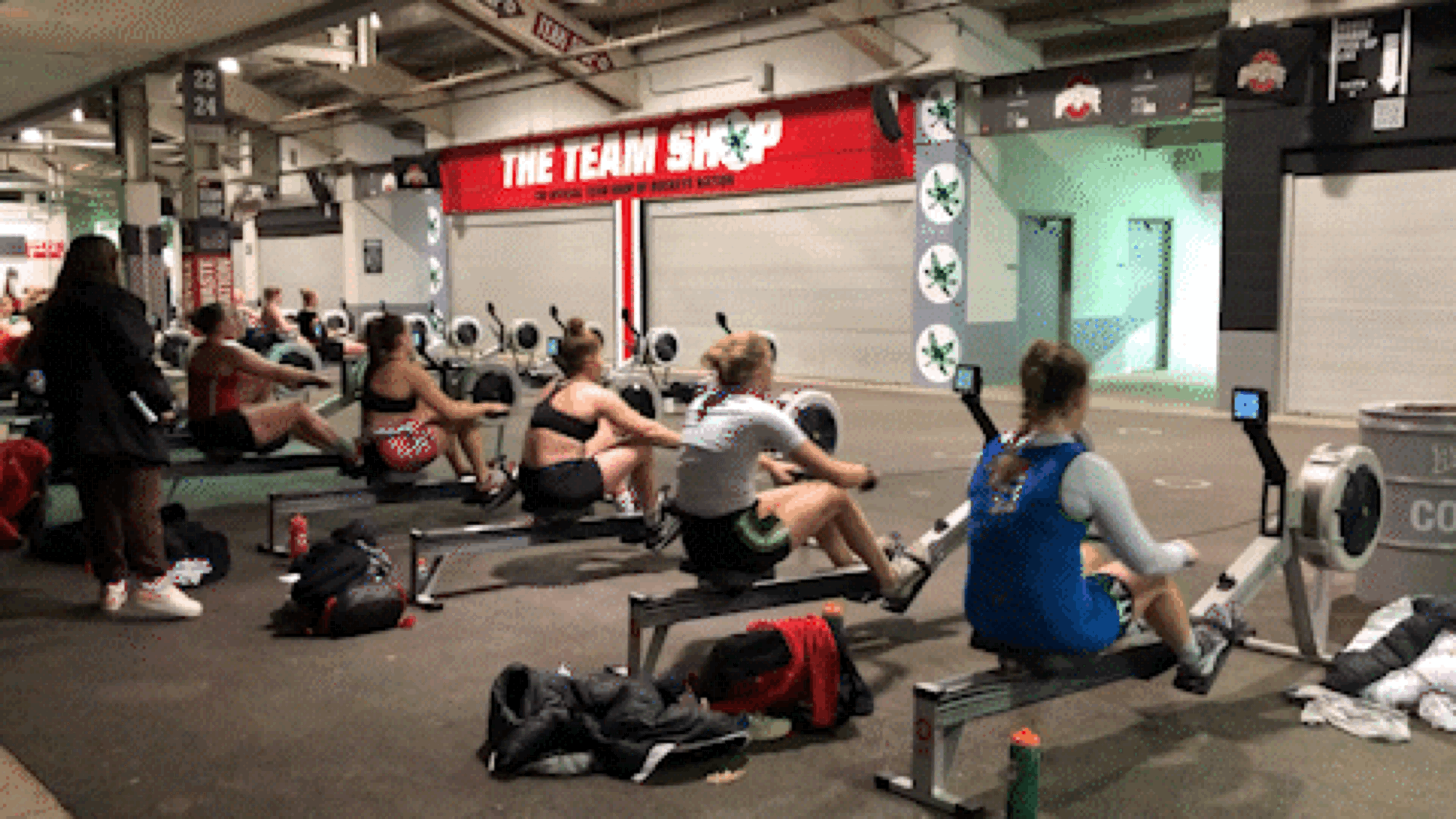 "The boat is very sensitive to your movement," said Natalie Chourova, a junior from Prague who studies human nutrition.
"We're sweeping, so we (each) just have one oar," said Tess Thompson, a junior from Illinois who majors in human development and family science and sport industry. "When the left side is pushing your handle down more and the boat is automatically pulling to the side … that's what (Chourova) meant that the boat is so sensitive."
They launch most days at dawn from the Griggs Reservoir Boathouse on the Scioto River, where the team now practices and hosts regattas. Early March was frigid on the water; a mist rose on a gray-brown landscape that had yet to bud with spring foliage. The women bundled in Ohio State beanies and fleece jackets, spots of scarlet and gray moving across the horizon. In their boats, they glided like birds set free over the water.
"I love (being) outside," Vermeer said. "On the river, there's multiple things going on."
They are in sync in a way that only women who train rigorously together can be. On the erg machines, too, groups of rowers instinctively move in unison, just as they do in the boats. The bond they develop is stronger than in a sorority, said Grace Pabst, a senior from Washington majoring in human development and family science.
"Rowing is a sport of self-sacrifice because everything that you do is for other people," said Pabst. "You're putting yourself through some of the hardest training in the world to be able to help your teammate cross the line in first. And so, my motivation isn't to win for myself, but it's to win for the boat. Everything I do is for the team."
Somewhere along that stretch of river, when they have been pushing forward and "catching the blades" into the water just long enough — losing themselves to the rhythm — they slip into what they call "the tunnel." It's not an actual tunnel, but a state of mind.
Sophomore Amelie Sens first experienced the phenomenon while training in Germany.
"In the races at the beginning of the season, the coach is sometimes biking next to the racecourse," the early childhood education major said. "Sometimes you're in the 'tunnel.' You just hear your coach. You hear nothing else."
"You get into this flow, into this zone," Chourova added. "Then you just turn off…. You lose your sense of environment."
Back in Murray-Takacs' day, rowers were blindfolded to achieve the same kind of hyper-focus.
"(They would) make us row and just feel it — just feel the rhythm, feel the motion of everyone else to get in sync," she said. "It's not a one-person thing. If you're off just a little bit, it throws the whole boat off. So, you have to be like them, the same mindset, the same everything to get that boat to move."
Eight beings working as one body. Synchronized, trusting and purely magical.