US News and World Report recognizes program in Educational and Instructional Media Design
Students seeking a top graduate program to hone their skills in online education and instructional media design will find the fully online Master of Learning Technologies program in the college a main contender.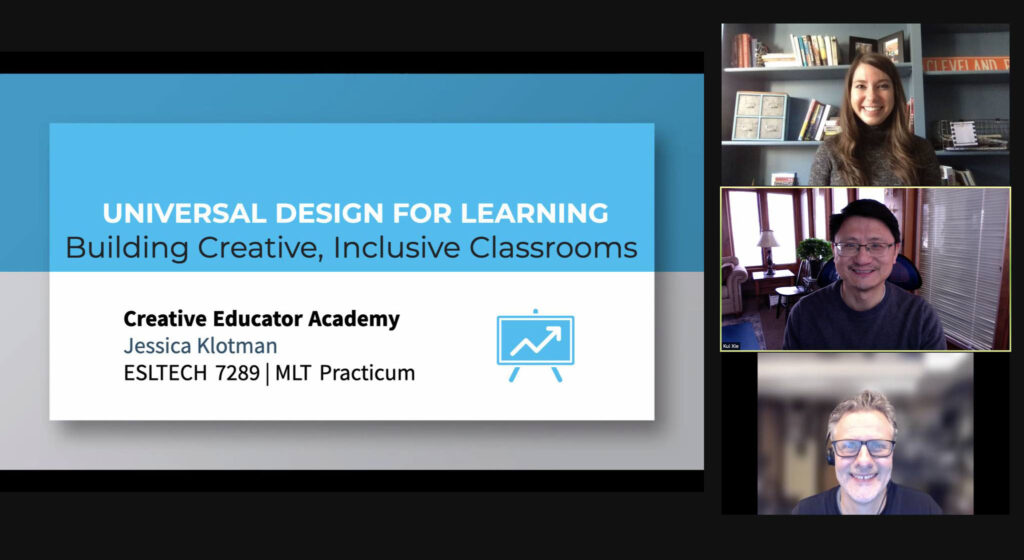 US News and World Report recently released its annual online graduate education programs rankings. In the Educational and Instructional Media Design specialty category, the college's program hit the No. 10 spot this year, placing it with the top online programs in the country for the second year in a row.
The six-year-old program provides students with the professional expertise to support learning with technology in higher education and K-12 education, corporate, nonprofit and government settings and more.
The streamlined curriculum is tailored for part-time and full-time students, each of whom completes a real-world practicum project with mentoring by one of the faculty.
In recent news for the program, the faculty expects to take on more students than in the past and welcomes applications for this coming autumn. This is in part due to the expanded role of Tracey Stuckey, EdD, who was promoted to clinical associate professor.
Program strengthens overall skills, ability to adapt technology tools
"Graduates continue to comment on their ability to apply what they learn to strengthen or advance in their current job or seek new opportunities," said Associate Professor Rick Voithofer, who chairs the program.
Jessica Klotman, who completed the program in 2021 and lives in North Carolina, chose the program to benefit her teaching of language arts to middle schoolers. "I was impressed by the flexibility of the program," she said, "including the ability to continue working full time while taking courses. I knew I wanted to develop skills that could be applied broadly to various fields."
In the program's courses, she said that while technology tools are constantly changing, having a sound understanding of learning theory — how people learn — allows her to implement and adapt any tool effectively. Voithofer's course, ESLTECH 7392: Theories of Learning with Technology, expands on this concept.
"One example that benefits my students daily is what I learned about designing multimedia," Klotman said. "I ensure that the materials I design or select — presentations, videos, documents — follow sound design principles that make the learning goals more attainable while minimizing distractions."
She said she now has the ability to evaluate materials for these principles. "It's important, given the incredible amount of teaching material available to educators. This knowledge ultimately makes the curriculum more accessible to students at all levels."
In addition, Klotman feels her overall instruction is now more intentional and research based. "The program allowed me to explore a variety of instructional design models," she said. As a result, "my units and lessons are better sequenced and more engaging for my eighth-grade students."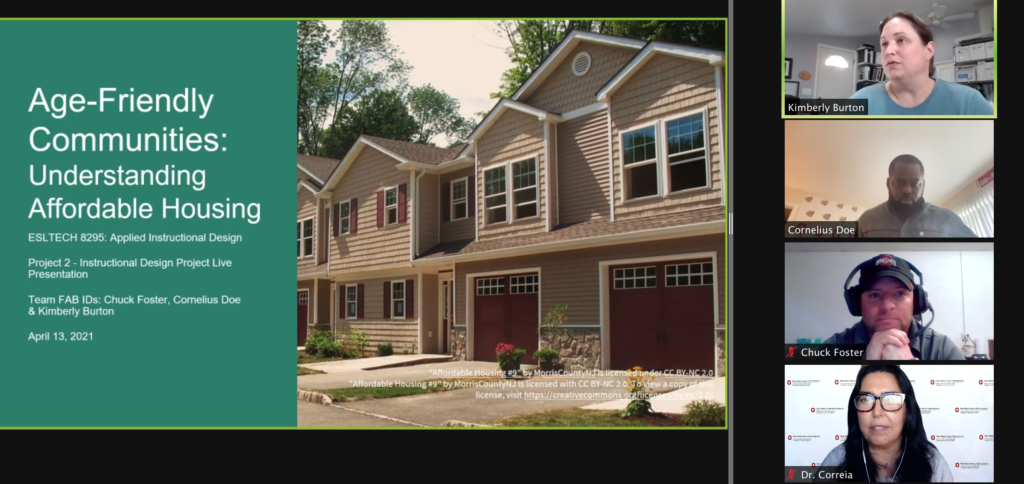 Excelling at, feeling fulfilled in virtual teamwork
Professor Ana-Paula Correia said that before the pandemic, teamwork was one of the top skills employers in instructional design and learning technology were looking for. "The pandemic exacerbated the need to be a successful team member in a virtual environment," she said.
The program provides students with the time to practice, excel and feel fulfilled in virtual teamwork. "Our graduates gain the skill set that every learning and development employer wants, both pre- and post-pandemic," Correia said. "This coincides with the existing booming of the instructional design job market due to the urgent needs that the pandemic is posing to education, training and learning."
Kimberly Burton, associate professor of practice for city and regional planning at Ohio State, completed the master's program in December 2021. She said practicing virtual teamwork in Correia's spring 2021 ESLTECH 8295: Applied Instructional Design let her excel as part of a team of three. The result: an interactive e-learning experience for regional planners called "Age-Friendly Communities: Understanding Affordable Housing" for the Mid-Ohio Regional Planning Commission.
"Working as a team in a virtual environment can be challenging," Burton said, "but there are also advantages. Since we were never physically in a workspace together, we needed to be more organized and segment our tasks so that we stayed on schedule. We learned to communicate clearly and frequently with each other over email, text, etc., and we met weekly over Zoom."
Burton and her colleagues created a folder on Google Drive where they managed shared lists of tasks and their schedule. "As we adapted to working virtually, we found many advantages. For example, one member had to go out of town for two weeks, but he kept working because he had a laptop and access to Wifi."
"Incompatible schedules were not a problem, because the virtual environment allowed us to work asynchronously," she said. "Lastly, when we did meet over Zoom, it was easy to use the technology to share information seamlessly. The planning commission was very happy with the final product, which it has loaded to its website as well."
Voithofer said some students have practiced virtual teamwork by contributing to projects under the department's newly developing Center for Technology and Innovation. One project is TransformED – the Creative Educator Academy coordinated by Stuckey. The yearlong professional learning experience recruited cohorts of Ohio educators last June. It focuses on exposing them to innovative thinking and creativity in educational problem solving, with an emphasis on hybrid learning.
"Not only have students worked on developing the instruction with Tracey, but students in my (autumn 2021 ESLTECH 7278) Formative Evaluation of Learning Technologies course did a project to help evaluate the academy," Voithofer said.
"Because of the bond that forms between students throughout the program, they have been able to support one another through the pandemic and feel less isolated as even more work from home," he said.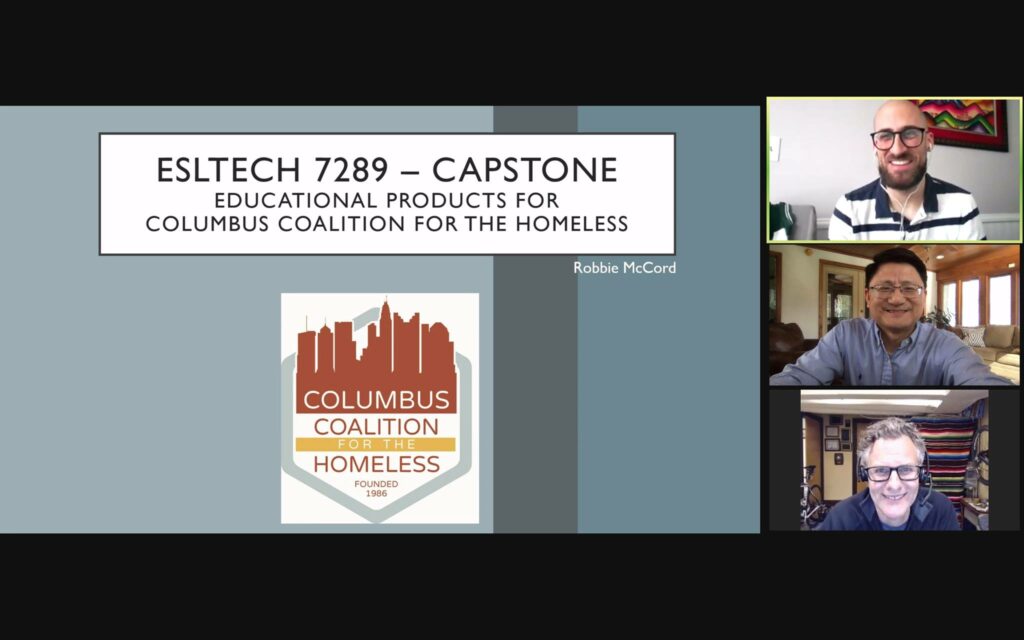 Providing opportunities for deep learning, social connections
Kui Xie, the Ted and Lois Cyphert Distinguished Professor in the Learning Technologies program, teaches ESLTECH 7277: Computer-Supported Collaborative Learning. He promotes deep learning by having students complete required readings about theories, then read several studies under each theory's framework. "Then we have activities applying those theories," he said.
His students often create videos because many of them have high-level video production skills. "I ask them to document every design decision they make as a group," Xie said.
"Next, they analyzed the process and reflected on related theories. The key is not to learn to produce a video, but to develop principles of design theory to create high-quality products while collaborating with others."
The pandemic has highlighted the importance of how instructional technology and design can facilitate distance learning. "Our students are the next wave of the workforce being trained to improve the quality of technology integration and online learning," Xie said.
Faculty members also are intentional about creating collegial social experiences for students, especially because the program has always been fully online. Xie often alternates his teaching, making one week a live meeting on camera. The next week will be asynchronous, with students reading an assignment and posting about it on a discussion board.
"I embed social connections in every class," Xie said. At the start of each semester, he asks everyone to post their photo on the discussion board. In face-to-face classes, "I start with up to 10 minutes of students sharing personal news. Grad school is an experience you don't get anywhere else. I want to make sure students build a lifetime social network."
Another connection point: everyone is invited to use the Master of Learning Technologies Hub. The private bulletin board is for members of the program's community — faculty and students. "We share updates and information about the program, job or internship opportunities and more," said Tracey Stuckey. "That space helps keep us all connected."
Stuckey makes live office hours a regular part of her fully online courses. "Over the last five years of teaching fully online, my office hours have been significantly more well attended than in my first 15 years of teaching primarily in person," she said.
Stuckey said she has often heard that we can't build rich interpersonal connections online, but she and her fellow faculty know differently. "With the right tools, solid effort and intentional strategies, we have demonstrated that strong social bonds can be created and sustained for fully online students," she said.
The practicum experience: Elevating real-world learning
A highlight of the competitive program is the required, real-world practicum. Each student, mentored by their assigned faculty advisor, chooses an experience related to their work or to an outside interest.
Robbie McCord, an instructional designer in Ohio State's College of Medicine, moved to Columbus five years ago. He heard stories about people who became unable to afford their homes as their neighborhoods were revitalized.
He also volunteers at downtown Trinity Episcopal Church, serving community meals, and has talked to some of the area's housing-unstable individuals and families. He reached out to the Columbus Coalition for the Homeless, to see how he could help.
"After learning that they wanted to deliver a training to Ohio social workers, I jumped at the opportunity to create a webinar for them for my practicum," he said. "It was the best way to deliver the information broadly, especially during the pandemic."
McCord also created an online module as a supplemental resource for the coalition. Available on the organization's learning management system, the primer covers the history of homelessness in Columbus, what contributes to it and what can be done.
McCord explained that the practicum experience advanced his technical and instructional design process skills. "I located a free learning management system, then taught myself how to develop modules, content, course branching and media within it," he said. "Dr. Voithofer's course on educational videography (ESLTECH 5280) was extremely helpful, as I used techniques from this course that I would not have known otherwise."
"Additionally, since the creation of the webinar was an iterative process, I utilized various instructional design models that I learned throughout my time in the program," McCord said. "My advisor, Dr. Xie, and I met numerous times throughout the semester. His feedback and suggestions aided me immensely as I navigated this lengthy project."
Not only did McCord expand his knowledge and meet top leaders of homeless initiatives in Columbus, but on the day of the webinar, more than 500 social workers from around the state attended. "I was thrilled with that attendance, and the response was overwhelmingly positive," he said.