Food and beverage "nerds," events coordinators and hospitality buffs will more easily pursue their passions, thanks to a new scholarship fund established by a leader in the hospitality industry.
Innovator and entrepreneur Cameron Mitchell and Cameron Mitchell Restaurants are investing in future hospitality leaders by offering one-to-one matching gifts for scholarships through the new Cameron Mitchell Matching Gift Fund at Ohio State.
The fund will help launch professionals into a field that provides a service like none other — fostering relationships while it nourishes people.
"Some of the most memorable moments in our lives are spent with our loved ones around a table enjoying food and beverage," said alumnus Zachary Montgomery, '08 BS "The ability to provide something special to guests is one of the reasons I love what I do. The hospitality industry brings people together."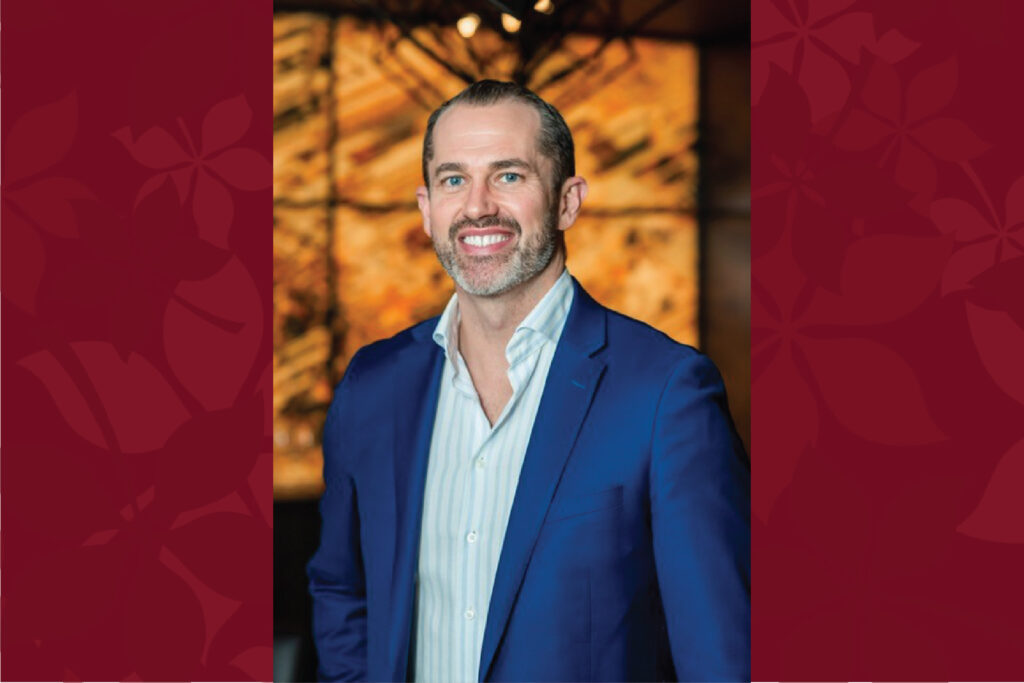 During her investiture ceremony, Ohio State President Kristina M. Johnson named Cameron Mitchell as supporting her goal of helping undergraduate students complete their degrees with zero academic debt.
As part of the president's Scarlet and Gray Advantage program, the Cameron Mitchell Restaurants fund will be among $50 million offered by donors, as well as the university, as a match for endowed scholarship funds.
Individuals or companies that contribute $100,000 or more will qualify for the one-to-one match from the Cameron Mitchell Restaurants fund to create new endowed scholarship funds or add to an existing endowed fund in support of Hospitality Management undergraduate students in the College of Education and Human Ecology.
The matching gift will help more students who want to build careers in hospitality, as well as add vitality to the industry that has suffered since the start of the COVID-19 pandemic.
Columbus, a city known for its hospitality, was described recently by Forbes as having a "surprisingly complex dining scene that represents a massive array of cultures." That makes central Ohio a great place to cultivate new hospitality professionals.
David Miller, president of Cameron Mitchell Restaurants, said the city is also lucky to be home to Ohio State, which is a tremendous educational resource for the hospitality management industry.
"Our decision to create the matching fund is motivated by the inspiring graduates we have seen come through the program and who have chosen to work for Cameron Mitchell Restaurants over the years," he said.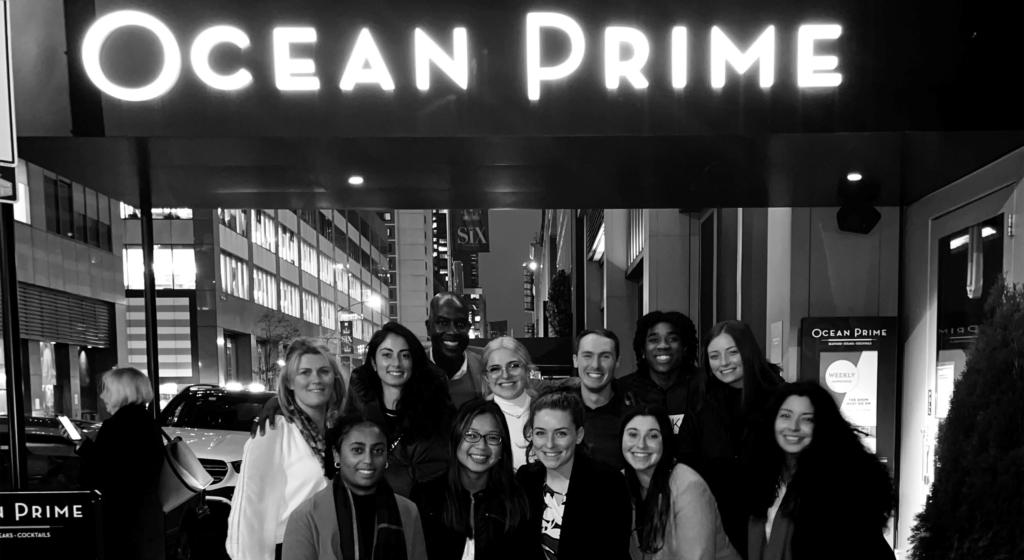 "We remain firmly committed to helping as many hospitality students as possible achieve their goals by easing the financial burden on their path to success," he said. "It is our sincere hope as they grow their skills that they build careers here in central Ohio. We look forward to seeing all that these students will accomplish."
Don Pope-Davis, dean of the College of Education and Human Ecology, said the matching gift will motivate additional scholarship gifts.
"Our program and students benefit tremendously from the support of Cameron Mitchell Restaurants," he said. "In this era of high student debt, we want to be student centric. That means not only giving students the best quality education, but also aligning with the university in the goal to eliminate crushing student financial burden."
Erik Porfeli, professor and chair of the Department of Human Sciences that is home to the Hospitality Management program, said Cameron Mitchell Restaurants provides comprehensive support and investment in students' success even as it benefits the industry's future.
"Our hospitality partners are deeply committed to diversity, equity and inclusion," he said. "They seek a workforce for and from the great diversity of communities they serve. The gift from CMR will help our hospitality community recruit and support an increasing diversity of students, especially those with financial needs."
Porfeli said the gift also affirms Cameron Mitchell Restaurants' support of the program. "It builds on the continued engagement of their leaders as guest speakers and mentors. It supports their including our students in touring and working within their fantastic array of restaurants."
"We especially appreciate the role of Melissa Johnson, vice president of CMR's Premier Events and Community Relations, who leads these opportunities for CMR and serves as a longstanding member of our Hospitality Management Advisory Board," he said.
CMR supports career growth of students and alumni
Mitchell and his wife Molly, as well as the restaurant group, are known for their generous support of the Hospitality Management program. In addition to this new gift, the restaurant group has renewed its in-kind gift that pairs its trendy, well-loved food with team members who provide students with hands-on experiences.
For example, Cameron Mitchell Restaurants was a key partner in establishing two of the program's signature events. For the annual Big Dish fundraiser, they shared financial support, talent and expertise with the 100 students who planned for and conducted the event for more than 500 attendees.
Cameron Mitchell Restaurants also shared its talent with students learning to serve guests with disabilities through Hospitality Listens. During the no-cost evening of dinner and entertainment, the students learned best hospitality practices for young people with autism spectrum disorder and their families.
Cameron Mitchell Restaurants first invested in students through its 2008 scholarship for junior- or senior-level students who wished to be interns at a Cameron Mitchell restaurant as part of their degrees. The fund provided scholarships to the student interns, who also received competitive pay and benefits, paid training, a supportive work culture and hands-on experience that built their resumes.
Hospitality alumni grow in careers, thanks to Cameron Mitchell Restaurants
Alexandra 'Alex' Carsonie, '14 BS Hospitality Management, received the Cameron Mitchell Restaurants scholarship during her junior year and interned with Cameron Mitchell Premier Events, the company's central Ohio catering and event planning division.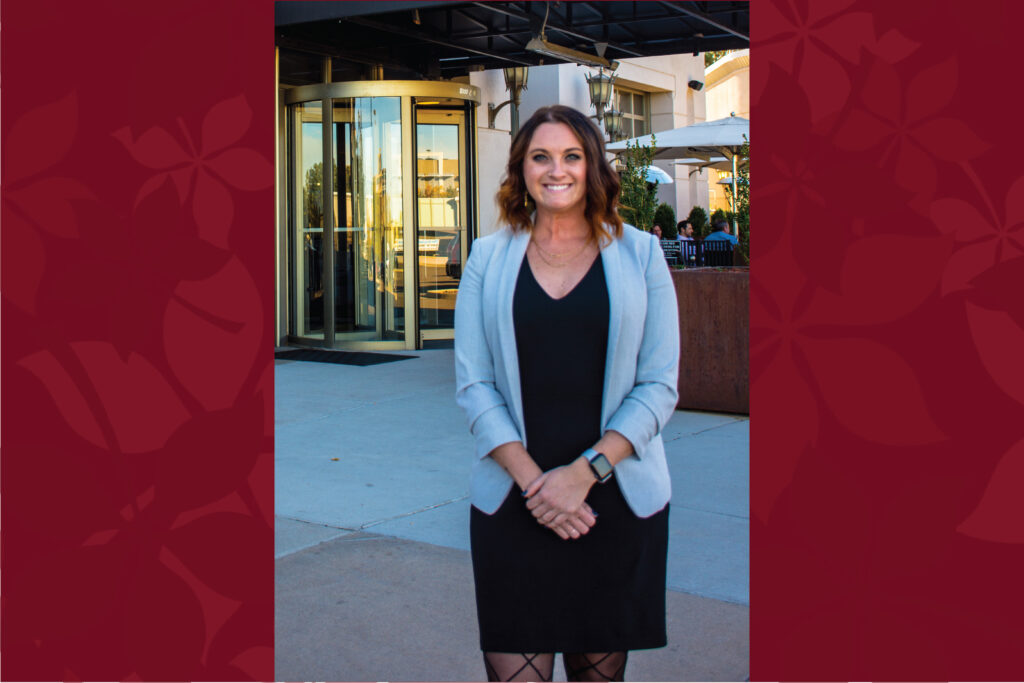 "I quickly grew to love the events world and working for this amazing restaurant group," she said. "One of our core company philosophies is that we believe in the growth of our associates. With the scholarship, I grew not only as a (future) associate, but also as a student."
Since graduation, Carsonie became an event sales manager at Premier Events. Then in January 2020, "I moved to Denver, where I took over the sales and events for our two Ocean Prime locations," she said. "Most recently, I moved to Kansas City to open our Ocean Prime and our brand-new concept, Prime Social Rooftop. I look forward to seeing our company's continued growth and how my career will develop for years to come."
Abby Antonick, '12 BS Hospitality Management, said she met a few Cameron Mitchell Restaurants associates through classes and networking events while pursuing her degree, especially when she decided to explore event planning and catering as a career option. "I interned at Cameron Mitchell Premier Events, and the knowledge and guidance the team provided allowed me to see myself continuing to work in this industry," she said.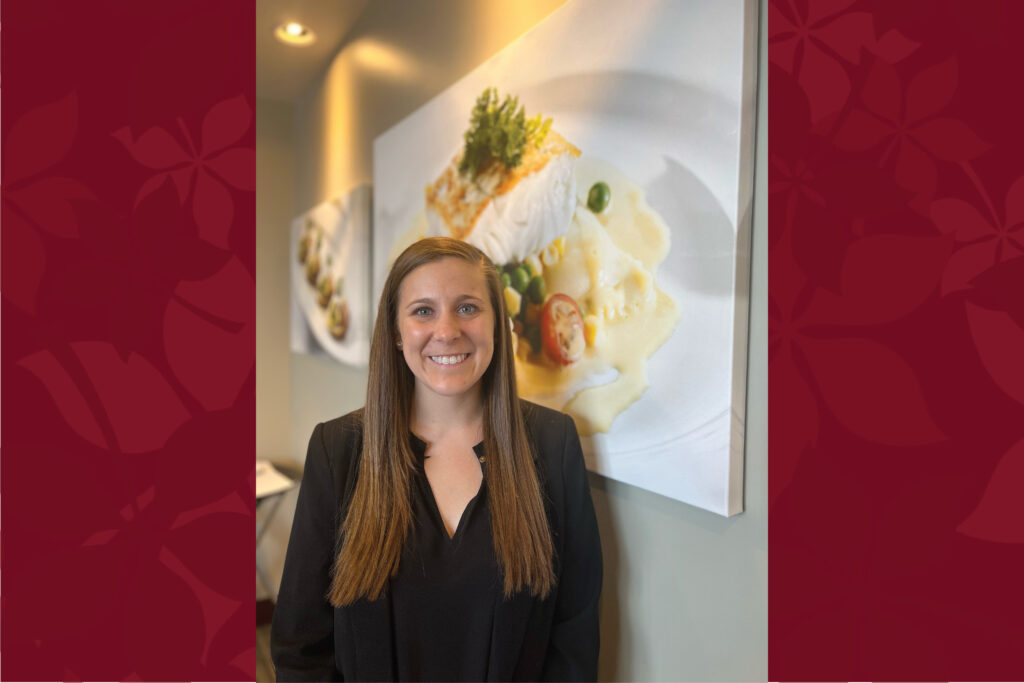 Antonick is now a senior events sales manager with Premier Events. "Without this program and CMR's commitment to the next generation of hospitality professionals," she said, "I wouldn't be where I am today."
BS Hospitality Management, had an associate's degree in culinary arts and chef training and had worked for hotels, independent restaurants and large restaurant corporations by the time he entered the undergraduate Hospitality Management program. He worked full time as a chef while taking a full course load.
"The Cameron Mitchell Scholarship helped ease the burden of expenses," he said, "and allowed me to focus on my passions in the industry without the additional financial stress."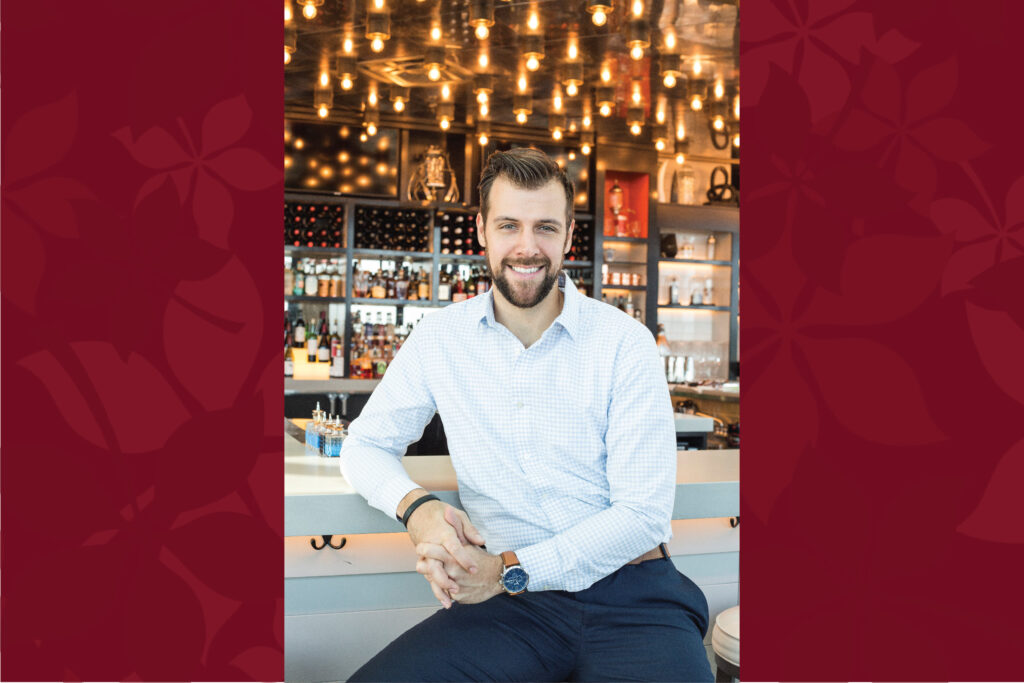 Clinical Assistant Professor Anne Turpin encouraged Bush to become active in Ohio State's student Hospitality Management Association. He began networking with several key members of the Hospitality Management Program Advisory Board, including CMR President David Miller.
"I was able to pick (Miller's) brain on the intricacies of the company and how I could further my experience from it," Bush said. "He helped arrange several 'shifts' in various CMR departments, including a Cocktail Rollout, a night in the kitchen at M, a catering event with Cameron Mitchell Premier Events and other one-on-ones with tenured CMR associates."
Bush also experienced classes and programs spearheaded by CMR associates for students. These interactions allowed him, as president of the student association, to connect younger students to influential members of the local hospitality community. "Through the support of CMR, we revitalized the association, gaining more student involvement over time," he said.
Upon graduating, Bush became a dining room manager at Cap City Fine Diner Grandview. Since then, he has moved up and is now the general manager of the new Lincoln Social Rooftop Club in Columbus' Short North.
"I truly am a food and beverage nerd who enjoys the history and creative process of what we do," Bush said. "CMR has continued to leave the doors unlocked for those curious enough to open them, and I have benefitted from seeking that growth."
Montgomery has been with Cameron Mitchell Restaurants for more than 16 years. He learned from his first restaurant job in Chillicothe, Ohio, that he loved interacting with guests.
"I knew I wanted to move to the big city, Columbus, and get a Hospitality Management degree from Ohio State," he said. "Ocean Prime was at the top of the list of places I wanted to work."
Montgomery knew nothing about seafood or wine at the time, but shortly after moving to Columbus, he bought his first tie and walked into Columbus' Ocean Club for an interview. He was hired.
"Since then, I have lived in 10 different cities and held every management position up the ladder," he said.
He became regional director in 2016 and now oversees seven Ocean Prime locations.
To discuss a gift opportunity to create or add to a Hospitality Management undergraduate scholarship and receive the Cameron Mitchell Restaurants match, contact Pablo Banhos, Executive Director of the Office of Advancement for the College of Education and Human Ecology.