Love of education saved her; now she's giving back.
BY ROBERT LOWERY
Childhood trauma can handicap life success. But in a world of disheartening stories about children whose parents suffer from addiction, Abby Huffman stands out. From age six, she decided to use her past to empower her future.
School gave Huffman the release that saved her. Now a sophomore with a full-tuition scholarship to Ohio State, the integrated language arts education major has set a goal to become a teacher so that she can help children the way she was helped.
Huffman hasn't forgotten the dark places she has been. Her father suddenly passed away when she was six and she was thrust into the mothering role, caring for her then two-year-old sister, Gabby.
The family struggled to find food, clothing, basic necessities. "We didn't have winter coats," she said.
Huffman remembers being 10 and hungry, opening the fridge to find only a fifth of vodka and a six-pack of Smirnoff. She used to bring snacks home from school so her younger sister could eat. She lived out of a car for stretches of time, not knowing what address to put down on school permission slips. "In that case, no kid knows what's normal," she said.
Her mother, who had just lost her job, suffered from bipolar disorder and extreme anxiety and often turned to alcohol and drugs — instead of her prescribed medicines — to self-medicate.
Most days, their mother couldn't get out of bed, leaving the sisters to fend for themselves. Huffman implored neighbors for food and clothes. School anchored her. Early on, her homework log went unsigned by her mother and she had to sit out recess. Still, she completed every assignment.
When she was in the third grade, a school social worker began counseling her and continued until she graduated. The school made sure she had enough to eat and worked out transportation when she moved, sparing her from switching schools again.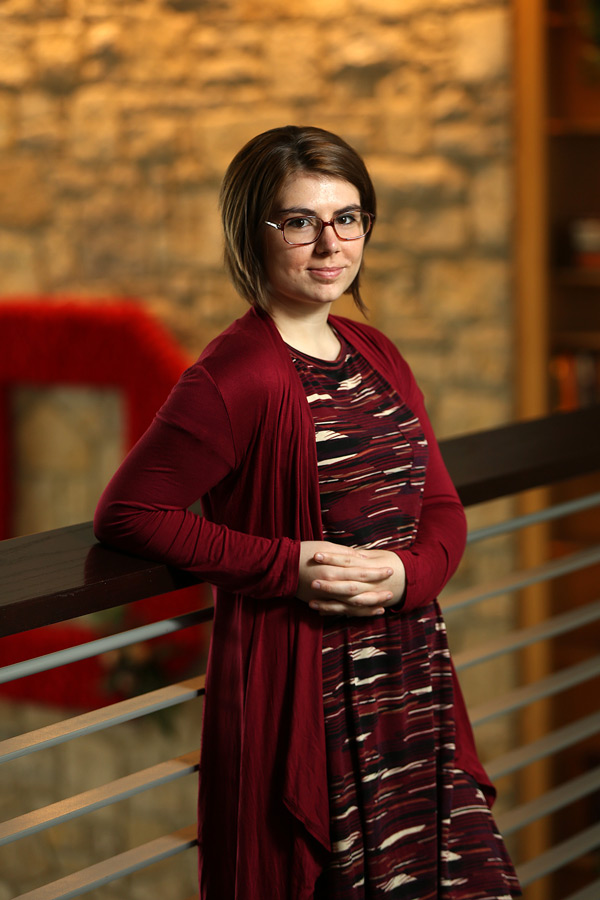 "I was always focused on school and tried to make the best out of everything," she said. "I had straight A's, but I didn't talk about it at all."
When her mother lost their home, the family bounced from house to house, sleeping on floors of family friends' homes. Drugs lay on the tables while strangers came and went.
"I finally realized that I wanted out," Huffman said.
Because their mother still had custody, relatives couldn't legally take the girls. At 14, Huffman pursued a court case. "I was thinking, what's the best for me and what's the best for my sister," she said.
A judge granted her wish, placing her in the care of her aunt, with her sister soon to follow. Not long after, her mother took her own life.
Huffman again focused on school to cope. Her high school English teacher encouraged her to express herself through writing and to read for pleasure. Huffman poured herself into extracurricular activities such as yearbook club and marching band. "That was my stress relief," she said.
Even after all she went through, Huffman realizes her mom had the odds stacked against her. "I was like, how can I prevent this in the future?"
She joined the Suicide Prevention Coalition in high school to learn about risk factors and warning signs. At Ohio State, she's a member of the Buckeye Campaign Against Suicide. She trained for and now works the suicide hotline.
"I'm not satisfied unless I'm keeping myself busy, helping others," Huffman said. "But keeping myself busy is for nothing if it doesn't change what I couldn't change before."
In return for the support she received from her teachers and school staff, Huffman wants to devote her life to the same service. Sadie Williams, her high school English teacher, helped propel her into teaching.
"She's a little stepping stone on the path to my future," Huffman said.
Williams said Huffman always was independent and mature. "Abby is inspirational," Williams said. "So many high school students have excuses. I've never ever heard an excuse from Abby."
"I wasn't going to let my loss hinder me," Huffman said. "I said the best way I could help myself is to do my best in school. "
Her best is only just beginning. In addition to the Ohio State scholarship, she received a Beat the Odds scholarship through the Children's Defense Fund of Ohio. At the award ceremony, Huffman met EHE faculty, including Dean Cheryl Achterberg, who reinforced the support system that the college can offer.
Huffman is taking it one day at a time, keeping up her grades and helping people. She's trying to forget the past, but not in a way that's unhealthy. For the first time, she truly can focus on herself. "I'm kind of just loving the independence," she said.
Huffman was admitted as a freshman to the Integrated Language Arts Teacher Education program, instead of waiting to apply after two years.
More than anything else, Huffman appreciates the care and kindness she has found at Ohio State and at EHE. As a student, and eventually a teacher, she wants to give back the same hope she has received. "I'm going to be happy every day."