Charting Ohio State's 70 years of leadership in exercise physiology
Since its genesis in the late 1950s, the college's leadership in exercise physiology has pioneered influential and interdisciplinary science-based research and discovery about how the body performs while in motion. Take a look back at a storied program, still breaking ground in the 21st century.

1959
Donald K. Mathews launched the first Ohio State laboratory dedicated to exercise physiology research. His first research investigated the effects of exercise and muscle fatigue. Mathews' work was instrumental to the start of research and instruction at Ohio State.
1962
As a PhD student, Robert L. Bartel's work in interval training, conditioning and strength training helped 11 swimmers achieve career bests and took them to an NCAA championship. As a professor, he continued working with swimmers, including Olympic athletes.
1963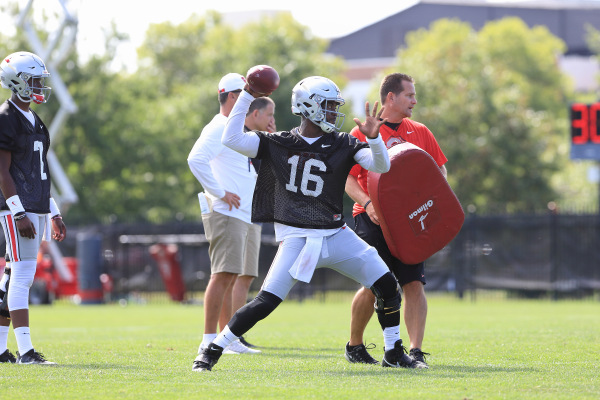 Mathews' study of how football players heat up and cool down led to innovations to prevent heat stroke: mesh jerseys, summer practices without pads and dispelling the myth that water is bad for athletes while playing or practicing.
1966
Studies in the Exercise Physiology Research Laboratory examined effects of high altitudes on athlete performance to prepare athletes for the 1968 Olympics in Mexico City, which has a minimum elevation of 7,200 feet.
1971
Mathews and Edward L. Fox published The Physiological Basis of Physical Education and Athletics, a culmination of influential research at Ohio State. It was used for more than two decades to teach undergraduates fundamentals of exercise physiology.
1974
Ohio State pioneered research showing that women performed as well as men in high-intensity interval training. The study documented that women respond equally, if not better, than men during strenuous exercise of the same relative stress.
1974
Fox and Mathews publish two books on interval training – "Interval Training" takes a more scientific approach to the regimen, and "Interval Training for Lifetime Fitness" presents a training program for general audiences.
1975
Bartels launches the Faculty-Staff Fitness Program offering Ohio State employees exercise programs prescribed based on stress testing and evaluation of cardiovascular fitness, strength and body fat. The program continues to be a staple of health, wellness and research today.
1977
A new University Activity Center opened to replace the outgrown natatorium and men's and women's gymnasiums. Dedicated to Richard Larkins, chair of the Department of Physical Education, the facility expanded exercise physiology research.
1980
The new Cardiac Rehabilitation Program's Timothy Kirby led development of supervised exercise programs and health education to help people recover from heart attacks, heart surgery or heart disease.
1985
During the mid- to late-80s, David Lamb investigated how beverages with caffeine, carbohydrates and electrolytes influence hydration, body temperature regulation and biochemical mechanisms responsible for improved physical performance.
1991
Michael Sherman and Lamb tested the theory that high-carbohydrate diets enhanced exercise performance. Their results showed that carbohydrate diets maintained or improved performance of runners, cyclists, swimmers and rowers.
1987-97
Sherman's studies showed that prolonged endurance exercise reduced insulin resistance in those with noninsulin-dependent diabetes.
2007
Research facilities in the new Physical Education and Activities Services Building open. This state-of-the-art building helped propel research opportunities for faculty along with bachelor's, master's and doctoral students to new heights.
2015
Research at Ohio State, under the guidance of Professor William J. Kraemer, examines the whole chain of events that occur in physical performance, starting with the brain. Using this whole-body neuroscience prescription, Kraemer and his kinesiology colleagues are finding ways to improve exercise for optimal physical performance.
2015
Jeff Volek showed how low-carbohydrate, high-fat diets fuel physical performance and promote health. His research demonstrated that diet can push ultra-endurance athletes to new heights. He continues to pioneer biological measures to show how we respond to food.
TODAY
Faculty and students continue to examine how nutrition, cancer, behavioral medicine and neuroscience are influenced by exercise. They study physiological demands on warfighters; how ketogenic diets help performance, diabetes and cancer; how exercise and behavior help treat cancer, arthritis and other conditions; new technology to monitor sweat, stress and recovery; and how exercise affects the brain and stress affects strength and recovery.
Expand research in exercise physiology
Give to the W. Michael Sherman Exercise Physiology Laboratory Fund #311472