How war, compassion and two professors put a Nobel Peace Prize nominee on the path of pacifism.
Nascent champions of peace often are thrust into activism after events coalesce in their lives. For David Ives ('75 MA), a nominee for the 2016 Nobel Peace Prize, fate and conviction converged on Ohio State's Oval in May 1970.
That spring, Ives had been a matter-of-course college freshman, red-bearded and with a propensity for telling jokes. He was a member of the Navy ROTC, something he hoped would make his veteran father proud.
But tensions ran high on campuses across the nation as students protested the Vietnam War. On May 1, personal tragedy blindsided Ives when his mother was killed by a drunk driver in their rural hometown of Pierpont, Ohio. Three days later, four students were shot dead during a protest at Kent State. Ives hadn't considered himself a pacifist. Now, he wasn't sure of anything.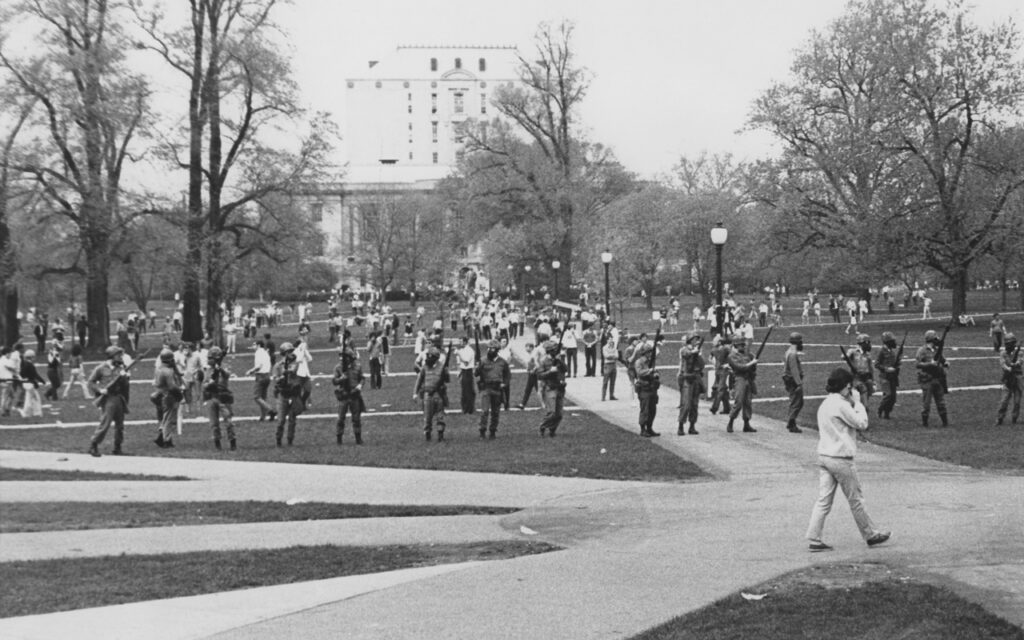 "For me, things were coming apart at the seams," he said.
National Guardsmen brandishing bayonets occupied the Columbus campus. Students charged police, who threw tear-gas canisters at them. The mood fishtailed from frivolity — because classes had been called off — to terror as guardsmen swept campus with their weapons.
"My emotions and my thoughts were going every which way, and I was changing faster than I realized," Ives said. "I realized then that I needed to go on the side of peace."
At his Baker Hall dorm, Ives strapped on scuba gear. With the oxygen tank thudding on his back and a mask shielding his eyes, he ran into the miasma of tear gas and continued protesting.
This crucible of events would hew the aspirations of young Ives and eventually lead to his Peace Prize nomination. He would get a Master of Science in higher education and student services in the then-College of Education. He would join the Peace Corps, befriend Nobel Peace Prize winners, organize international peace summits, help monitor elections with Jimmy Carter and become director of the Albert Schweitzer Institute at Quinnipiac University. He also would lead a slew of students to broaden their perspectives by working "on the side of peace."
Learning to drive change
Ives' approach to creating change was shaped in the college's Higher Education and Student Services graduate program. Two faculty members fundamentally impacted him.
Professor Philip Tripp was a guru in the field. Robert Silverman was a hip, young associate professor. Both turned the old student services model, with its emphasis on psychological development, on its ear.
"Phil's was more of a humanistic model," said Faculty Emeritus Silverman. "He wanted to help students develop to be richer and fuller human beings."
At national conferences, Tripp "reigned supreme," Silverman said. Surrounded by students and colleagues, the professor explicated novel theories on student development and advising.
"Phil (would bring) together in one place the brightest and best of emerging professionals with other very senior colleagues and, in the process, stir things up," wrote Harry J. Canon, a former ethics chair for the American College Personnel Association. He was "a professional who cared deeply about students and the future of higher education, and ultimately, a mentor without peer."
Romantically, I thought that I could make a difference. Realistically, it was a lot harder than I thought. – David Ives
Tripp and Silverman coached Ives about leadership, problem solving, effective communication and looking at all sorts of organizations, not just universities, in metaphorical terms.
Silverman assigned Zen and the Art of Motorcycle Maintenance to graduate students. Just as the characters struggled to find balance between romantic, Zen-like viewpoints and rational, hierarchical thinking, students had to find practical ways to solve problems they protested against.
Veterans poured onto campus after tours of duty in Vietnam. As part of his master's work, Ives counseled those with post-traumatic stress disorder at the Open Door Clinic. He also manned a suicide prevention hotline.
Ives' graduate paper centered on his metamorphosis from a small-town preacher's son in the ROTC to a street-smart kid demonstrating for peace in scuba gear.
"My values were formed in that period from 1971 until I joined the Peace Corps in 1981," Ives said. "I was changing the whole time."
Seeing poverty's outcomes firsthand
In Costa Rica, Ives ran an agricultural program and measured the height and weight of babies starving because their families were forced to dilute infant formula. A baby died in his arms as he attempted to rush her to a clinic via a rowboat at sea.
"That little face is right here all the time." Ives waved his hand in front of his eyes. "I got her to the doctor; he pronounced her dead but I've never gotten over it, which is why I do what I do."
On rainy days, he reread Motorcycle Maintenance and other political tomes. With his professors' ideas still knocking around his head, he came to a determination.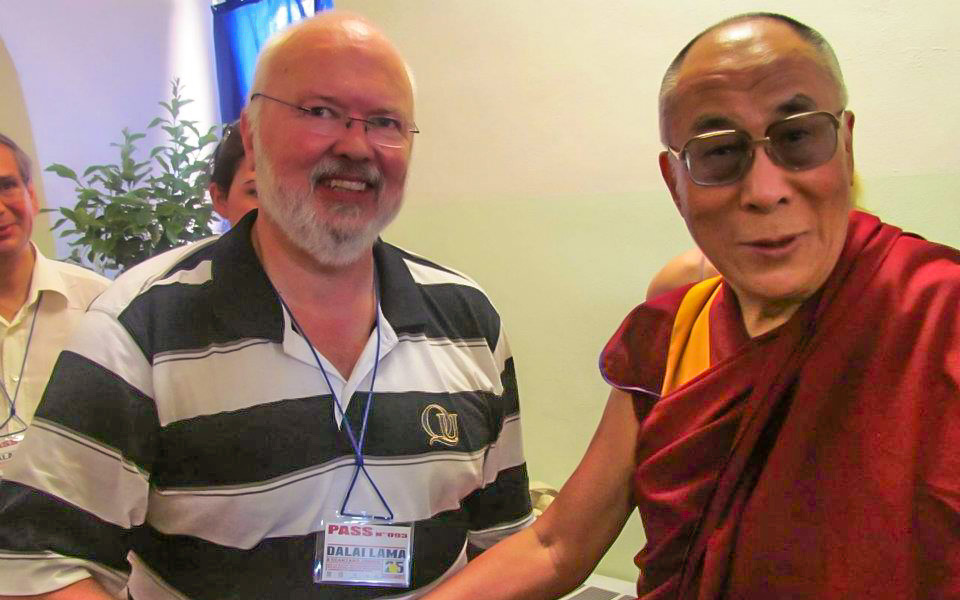 "Romantically, I thought that I could make a difference. Realistically, it was a lot harder than I thought.
"There was a larger issue," he said. "I realized the Peace Corps was an anticommunist measure. I thought it was based on helping others in need." But as he studied the issues, Ives found much of the need itself was caused by U.S. policies implemented in Central and South America in the 1940s, '50s and '60s.
His work with the corps was a microlevel solution.
Back in the States, his experiences seemed to fall into a void. People's eyes glazed over when he spoke of the debilitating poverty he had seen. He worked as dean of student life at a small college, then for various nonprofits. But it became his personal mission to promote peace by broadening minds about cultural differences. He began working on a macrolevel.
Ives created a ripple
He built an international program for the Rotary Foundation to promote peace and human rights by examining the roots of regional conflict. (One of his assets, his vitae explained, was "maintaining my equilibrium in very ticklish political situations.") He later ran the Jonas Foundation, which trained exceptional teens in international leadership.
He became executive director of Quinnipiac University's Albert Schweitzer Institute — whose mission is to promote peace, humanitarian values and health — in 2002, the same year President Jimmy Carter received the Nobel Peace Prize. Carter later joined the institute's honorary board, along with Peace Prize winners Oscar Arias, Betty Williams, Desmond Tutu and others. Ives came to know them all.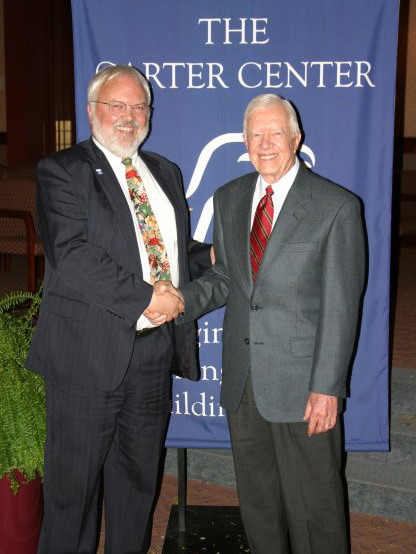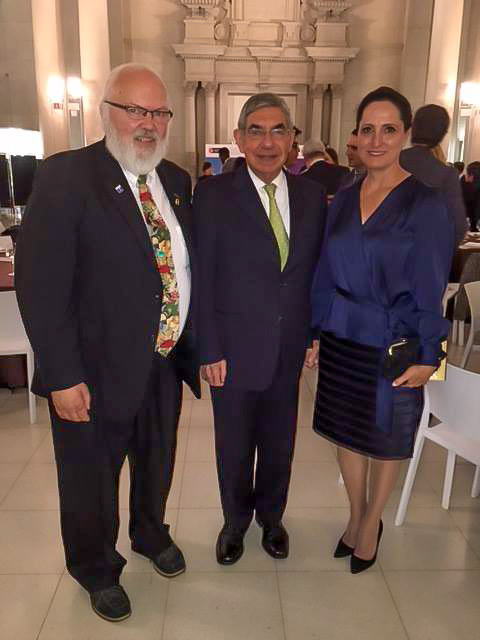 He helped the Carter Center monitor elections in Venezuela and Nicaragua. For years, he has coordinated summits of Nobel Peace Prize laureates for the Gorbachev Foundation. (The former Soviet statesman simply calls him "David.") The most recent summit attempted to engage Colombian students to end their country's 52-year civil war.
Forty years after he graduated from Ohio State, working with students remains a fervent objective. He arranges overseas trips for Quinnipiac students — about 400 each year — to experience poverty up close for a semester or a few weeks. "When they have to live in a house with dirt floors, it seems to change them," he said.
He teaches courses on global poverty and international citizenship. Internet encomiums credit him for nudging students into the Peace Corps and other service organizations in Ethiopia, Indonesia and Rwanda.
A survivor of polio, Guillain-Barre and now Parkinson's disease, Ives has developed physical therapy programs in the developing world, challenging the notion that disabled people cannot lead productive lives. He has helped build schools, amphitheaters and basketball courts in impoverished communities. Many bear his name.
These were never objectives he thought achievable in 1970, or even as a graduate student in 1975. Yet each step led him to a nomination for the highest honor bestowed on a peacemaker.
"He brought together, and continues to do so, both a problem-solving and a romantic view of the world," his professor, Robert Silverman, said. "And he himself has since become a major actor in creating that relationship, which is fabulous."