By JANET KIPLINGER CICCONE
Until she was four, Olivia Sulser was nonverbal. She dwelled in a world of her own, 100 percent of the time. Her mother could stand in front of her, calling her name, and Olivia didn't seem to notice.
But that wasn't the worst part.
Diagnosed at 3.5 years old with autism spectrum disorder (ASD) and attention deficit hyperactivity disorder (ADHD), Olivia struggled to communicate.
When she couldn't explain that she wanted a drink or a toy from the shelf, she became frustrated and threw a tantrum.
She beat herself on the checks with her fists. Hard.
The public school system wanted to put Olivia in a special-needs, low-functioning class. Her parents, Casey and Mark Sulser, weren't having it. They knew Olivia wasn't cognitively delayed.
In fact, the Center for Disease Control's Autism and Developmental Disability Monitoring Network says 62 percent of children diagnosed with ASD do not have intellectual disability. Yet people imagine all children on the spectrum do because of how they behave.
With her parents' help — they read to her extensively, labeled household items with notecards, enabled closed captioning on the TV — Olivia become verbal suddenly, at four, starting with a few words, then moving to whole sentences. She learned to read and loved books so much she slept with them.
But the biggest change came when Olivia's parents enrolled her at Haugland Learning Center in Dublin, Ohio. When she refused to do anything in preschool but play in the sensory bin filled with rice, beans and small toys, Morten Haugland ('00 MS, PhD*), director and founder of the school, said that was fine.
Casey remembered Haugland saying, "We will offer Olivia the sensory bin as a reward for other learning."
Up against the clock
Morten and his wife, Kristi Haugland ('11 MA) founded the Haugland Learning Center in 2004 as a pre-K-12 charter school primarily for students with ASD.
"We have over 249 students — several more joined this week — and 138 staff in this building," Morten Haugland said.
Another 25 students each attend schools in Lancaster and Sandusky; both were added due to parent demand for quality services for children with ASD.
Professor Helen Malone finds the prevalence of autism concerning. "One in 68 children is diagnosed with autism. It used to be one in 121," she said. "We have issues with serving every other disability group, but we don't have this increase."
According to the Centers for Disease Control and Prevention, ASD occurs in all racial, ethnic and socioeconomic groups.
"We're already up against the clock with a child with significant disabilities," said Malone, who specializes in severe disabilities. "You get 21 years in school. If you're identified at birth with a significant disability, we need to be as efficient as possible to help you learn."
Answering the rising tide
EHE's faculty, alumni and students respond proactively to the crush of children with special needs, including ASD. "Our program strives to train teachers, practitioners and future researchers to help kids overcome their challenges," Malone said.
"Because we use a behavior analytic focus, which is most effective according to the research evidence, the teachers who come from our program are in some cases the best hope for these kids."
Alumni like the Hauglands exemplify that best hope. "Our focus is not as much on autism as on a solid education and growth of students," Morten Haugland said.
He credits the school's positive results to his PhD studies with John Cooper. The faculty emeritus worked with Bill Heward and Tim Heron to establish behavioral analysis as the basis of EHE's Special Education program, making it among the first such academic programs in the nation.
"Drawing on Coop's work, we use precision teaching based on applied behavior analysis. Yet we're unique; we teach students to work toward specific goals daily, charting their own progress."
All decisions in the nontraditional program are based on that charted data: about students' academic performance, behavior, even staff performance.
Using data to track learning
From day one, teachers taught Olivia to chart her performance. In kindergarten, she made a line on her chart for each time she correctly met her daily goal of naming so many alphabet letters per minute. She charted how often she completed potty training.
Success earned her Kroner Points, named for coinage in Haugland's native Norway. With them, she could buy a strip of beef jerky in the school store or time in the Haugland Video Game Room during lunch. The choices are wide.
Teachers also praise often. "Our target praise rate is three to four praise statements per minute. We found through our data, if we praise more than four times per minute, it slows down instruction," Haugland said. "If it's lower than two, it's not frequent enough."
Another tactic: The school does not allow punishment. "We look for a proactive approach to increase appropriate behaviors," Morten said.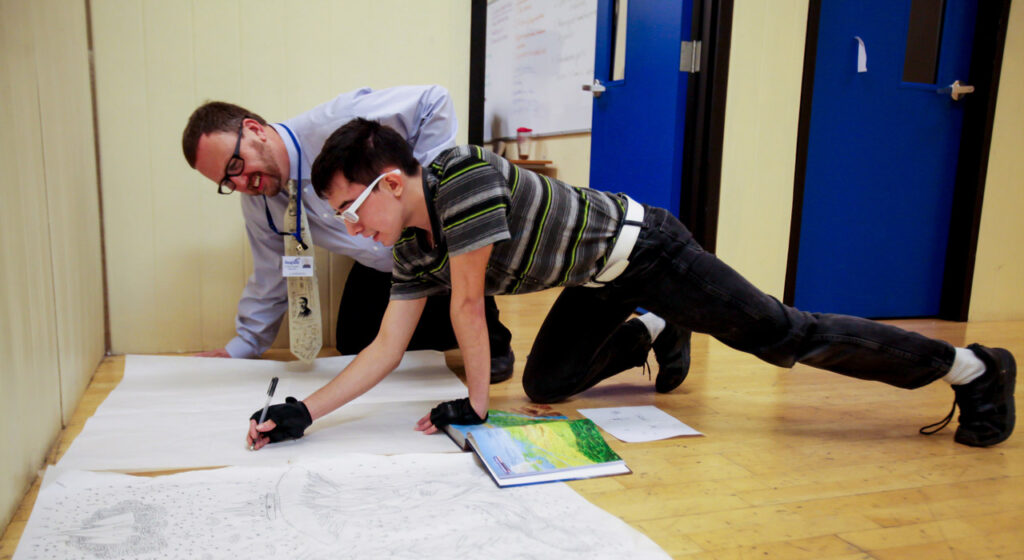 Nailing success
Today, thanks to family support and Ohio's Autism Scholarship, which makes Haugland Learning Center affordable, Olivia Sulser is a vibrant 15-year-old studying a college-level curriculum. Outside class, her short fringe of brown hair bobs as she races along the school corridor, working off energy. She stops to answer questions with few but emphatic words.
What is your favorite subject in school? "World History."
What do you want to do after graduation? "Something with animals."
She volunteers at the Humane Society, socializing the kittens, her mother explained. "She knows them all by name and often holds one out to a visitor, saying, 'You might like Mittens.'"
In class, Olivia is all quiet concentration, a bit unexpected for a person with ADHD. In her Talking Aloud Problem Solving class, they're discussing relationships.
Teacher Andrew Peal calls on Olivia: "Name someone who works with you."
Olivia doesn't miss a beat. "Mr. Shirta," she said. "He works with me in World History."
Although she still faces challenges, Olivia stays true to her goals. She's gone from hating handwriting so much she wouldn't sign a birthday card to writing complete sentences for questions in Early American Literature. She reads her answer and, with the teacher's approval, gives herself a point.
Casey Sulser, as former president of the Haugland PTO, sums up how most parents feel about the school. "A lot of us call it home. We've found a place for not only our kids, but for parents, too."
Shortage of special ed teachers
Although schools like Haugland serve many special education students, public schools must provide for the majority of them. The United States has a chronic shortage of qualified special education teachers.
"The statistics are pretty abysmal," said Nancy Neef, professor. "In some programs, quality and quantity are in competition. Teachers don't feel adequately trained or supported in what they have to do."
One of the biggest reasons for the teacher shortage is a dearth of university faculty to train them, Neef explained.
In the next five years, colleges and universities will retire 50 to 66 percent of faculty who would train the next generation of special education teachers, according to the national Special Education Needs Assessment.
At the same time, the Bureau of Labor Statistics predicts that the demand for special educators will rise 17 percent next year, a larger increase than in any other occupation.
The shortage will result in a substantial number of students with disabilities being underserved, Neef pointed out. Fortunately, she is part of a nationwide solution.
With Neef as director, Ohio State is among multiple universities nationwide to receive grants for the last 11 years to prepare future faculty. With her current grant from the U.S. Department of Education continuing until 2019, Neef said, "I think by all working together, we're making a dent in the need."
Another need is to place young adults with disabilities in real jobs instead of sheltered employment. Ohio has made this a priority with its Employment First legislation.
Alumna Margo Izzo ('98 PhD) partnered with Helen Malone and another Ohio State faculty to win a federal grant focused on that specific goal.
Creating places to belong
Seamus McCord was deemed unemployable. The agency specializing in finding jobs for young adults with special needs closed his case.
Despite having ASD, McCord is clearly intelligent. The 29-year-old earned an associate's degree from Columbus State Community College. He's a whiz at grammar, spelling and mental arithmetic. If you tell him your birthdate, he can tell you on what day of the week you were born.
And his determined manner shows he intends to succeed.
Before he tried the agency, McCord had worked several part-time jobs and internships. None had led to a permanent spot.
At 23, he felt discouraged. No one seemed to appreciate his strengths.
Izzo did. McCord found her at Ohio State's Nisonger Center, which specializes in programs for young people with intellectual and developmental disabilities. In 2010, Izzo began directing Transition Options in Postsecondary Settings (TOPS). It was among only seven such grants nationwide renewed in 2015.
It was the right match for McCord.
The program provides two or four years of audited coursework, job preparation, internships, a certificate of completion and job placement.
"Only 16 to 30 percent of young adults with such disabilities find permanent jobs," Izzo said. "But our consortium of six Ohio universities has an 83 percent employment rate. Ohio State has a 91 percent success rate."
When he talks about TOPS, McCord's excited speech is like a freight train barreling purposefully toward its destination. "I took a lot of courses," he said.
"The first one was probably the best one of them all. I had so much fun at it. I was still at Columbus State and close to earning my associate's degree but I took this Fundamentals of Acting class. It was a great class.
"Being in TOPS, I had an education coach. She supported me. Just having her with me was great."
"Your coach helped you stay on track," added Ursula McCord, Seamus' mom. "Helped you know your assignments and when they were due."
"Definitely. Her name was Laura Colebaugh" ('12 BS). The letters of Laura's surname roll off his tongue easily. If people are important to him, McCord has a grizzly-sized steel trap for names and spelling.
"When I graduated from Columbus State, she came to my graduation."
Web Exclusive
TWO KEYS TO HELPING STUDENTS IN SPECIAL EDUCATION SUCCEED
by Janet Kiplinger Ciccone
Colebaugh and other Ohio State students pair with TOPS students for credit in a Disability Studies course. Additional students socialize with them, many as volunteers.
Social relationships can be difficult for people with autism. Ursula McCord remembers picking up Seamus from campus one evening and feeling gratified to see him with others. "They had been to the movies," she said. "It was a big group of students just hanging out, having fun."
After graduation, TOPS found Seamus a job. Today, he celebrates two years of permanent, part-time employment with the Patient Access Services with Ohio State's James Cancer Center.
Seamus navigates the 60-plus identical cubicles, collecting discarded, confidential paperwork from workers and recycling it in secure receptacles.
He knows exactly where each worker sits in the maze. Without hesitating, he gathers the sheets and recycles them, then he settles in his cubicle to stuff envelopes with confidential letters that remind patients it's time for health screenings.
A big perk of the job — everyone likes him, especially his supervisor,
Jeremy Glann. "Seamus brings value to the office," Glann said. "He brings joy."
A pleasant man in his 30s, Glann indicated McCord's cubicle, which colleagues have decorated with a big sign sporting a shamrock to celebrate his Irish heritage.
"He takes an interest in his fellow employees," Glann said. "When a colleague returned from vacation, Seamus made a point to ask him about his trip. He wished another colleague well when he was leaving. You can tell he has a warm heart. And he likes to be kept busy. We appreciate that."
Seamus freely tells others how much he loved the TOPS program. Most of all, he loves what Izzo and Malone have done for him — matching him to the right job with a supportive supervisor and co-workers. At last, he's been able to prove himself.
"I knew I could do it," he said.